What Is a Business Card Portal? What to Know Before You Choose One
In short, a business card portal is a private online storefront that allows businesses to simplify their ordering process dramatically.
Making sure everyone in your company gets their business cards — in a prompt and timely manner — might not sound like such a big deal to you. If that's the case, then it's highly likely that you've never been a part of this exhausting process within a large enterprise.
It's not a secret that ordering business cards is a resource-consuming task that may require several teams, including team members who deal with design, administration, HR, purchasing, and marketing, to work together in tandem. Sometimes, this task can even make the process itself more expensive than the end product. And because very few companies have a surplus of free time and resources, using a business card portal to help you with the ordering process is a good idea.
But there are all sorts of printing solutions out there - how can you possibly know which one would be the best fit for you and your company?
Here, we'll break down everything you need to know about business card portals, including helping you understand what they are and how to find the ideal one for you.
---
Content
---
In short, a business card portal — aka business card ordering portal — is a private online storefront that allows businesses to simplify their ordering process dramatically. It includes such services as editing, proofing, approving, shipping, and paying for business cards for everyone in a company.
The way a business card portal works varies depending on the provider of the portal and the workflow preference of the client. In a best-case scenario, leading business card portals usually allow either one administrator or multiple users to place orders. They can do this by using pre-set templates that make ordering simple enough so that anyone -even those without any design skills- can self-order as needed.
Self-ordering is one of the key features of business card portals, but we'll dive deeper into this topic later in the article.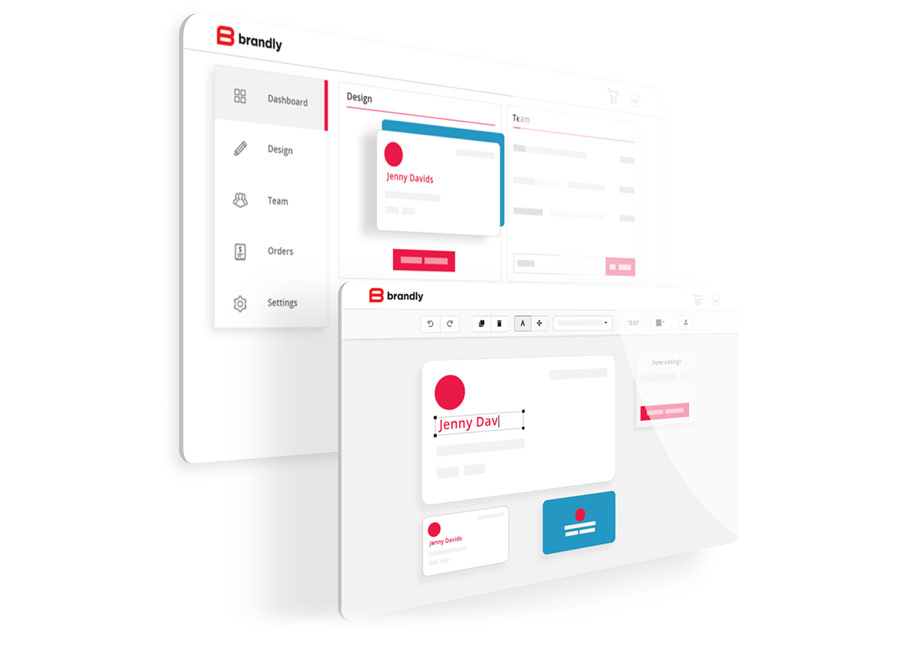 Not every company necessarily needs a business card portal. Mainly, small teams that order with a low frequency won't get the most out of a business card portal. However, even those might find that using one is still smarter than not to, especially if a free solution is available.
To discover whether your organization needs a business card portal, consider the following questions:
Spending too much time ordering cards?
Does your company have a high number of employees?
Does your company order business cards regularly?
Is your company experiencing a period of rapid growth?
Do you envision your team growing someday?
Does your company have multiple office locations?
Does your company use more than one business card design?
Is your company going through a rebranding?
Does your company lack an in-house graphic designer?
If you answered "yes" to any of these questions, then your company would definitely benefit from a private business card ordering portal. However, before jumping to conclusions, let's move to a more tangible description of how a business card portal can help you.
If you're reading this, you're either already suffering through the tiring process of making sure everyone within your company gets their business cards, or that you're one of those smart people who value time and loves automating unnecessary tasks.
If one of these is the case, a portal can make you and your company more productive and take business cards off of your to-do list- and fast.
First, we're going to explain the many ways a business card portal can help (benefits) your business, and then we'll dive into the nitty-gritty of the how (features).
Benefits
Saving Time
Saving time is probably the most immediate and observable benefit of any sort of automation. Ordering through a portal helps to save a lot of time, by simply putting control into the hands of the end user and removing other people and extra steps from the process. Placing a new business card order using a portal shouldn't take you much more than a minute.
A big part of the time saving is possible thanks to the features provided by the portal, which will vary according to each provider. However, these are the fundamental features you should be looking for:
Custom and unlimited editable templates
Employee self-ordering
Approval workflow
Easy re-ordering
Bulk ordering
We'll explain in depth how these features work later in this article in the features section.
Saving Money
The primary purpose of most portals is to help save valuable time, because, as you know, time is money. Besides that, there are a couple of other ways in which a portal can cut costs. And of course, these will also vary depending on which provider you choose.
Portal providers want you to print with them so most will advertise how their portal saves you both time and money. But dig a little deeper and you will find that sometimes there are a lot of extras - portal fees, charges for second side printing, and delivery charges - all of which can make advertised prices less appealing when you get the final bill.
Ideally, you want to get a free portal (no maintenance fee), free shipping, and a fair price on good quality cards. Although that sounds utopian, there is at least one provider that matches that description - you guessed it, it's Brandly.
Here's a list of the factors that incur the cost of getting business cards, and also a brief explanation of how a portal can minimize them:
Chosen paper-type (also called the stock): It's likely that the business card provider you choose will offer different paper types, from standard to premium, and more. If you're interested in learning more about business card paper types, check out our article on how to choose the right paper for your business cards.
Printing: Though printing costs usually won't be shown in the order details as a separate line, you're paying for it. Therefore, you need to be super attentive here, since some providers charge extra for printing the second side of cards. Before making a decision when comparing solutions, make sure the second side's printing costs are included in the price shown (or at least be aware of it and add it to the price equation). Some business card portal providers will offer some kind of discount for clients using their portal. Some call these "Business Level Pricing," and others "Corporate pricing." The takeaway is that by just using a portal, you'll most likely be paying less per card than by ordering any other way.
Quantity: This might sound obvious, but it won't hurt to remind you; the more cards you order, the higher the price of the order will be. Most providers will offer boxes that range from 50 to 1000 business cards.
Cost of design: This is a big one. If your company cares about uniqueness, brand identity, and brand consistency, it is most likely that they will have a unique business card created by a designer. On the other hand, businesses who don't truly understand the value or the 3 b's (brand, branding, and brand identity) will probably turn to sources such as downloadable templates. Either way, you'll probably spend bucks on design (and you should!). A business card portal can help save tons of money by removing the designer out of the equation every time you need to create new business cards. Editable Templates remove the design costs as the changes can be made in the portal at the time of ordering (by whoever is ordering).
Shipping costs: Free shipping hasn't yet become a commodity among printing platforms, and most vendors will charge you for shipping. Some will charge as little as $9.99 for any size order, and others will go higher. If you think about it, $9.99 could be up to 20% of the cost of a business card box, which is 20% extra of the cost of the cards ordered. Using a portal provider that offers free shipping is a good idea. You'd be surprised on how much, in terms of savings, it can add up to at the end of the year.
Gaining Control
One of the most critical aspects of a business card portal is that it allows administrators of the account to manage everything: business card templates, team members, office locations (shipping addresses), payment methods, orders history and tracking, and more. All in one place.
Also, having your company's business card designs in a portal means not losing them ever again and keeping brand consistency on every order, since the same template is used for each.
Most business card portals will also let administrators become a sort of gatekeeper, overseeing the entire process, and that's where the "Approval" feature comes into play. We'll explain the approval feature later on in the article.
More Convenience
Business card portals are all about convenience. It's about streamlining the ordering, proofing, payment, and shipping process. It's about being able to order business cards online 24/7, 365 days a year. It's basically about business card ordering made simple.
More Transparency
Last, but not least, is transparency. Some printing vendors can be a bit deceitful when it comes to pricing. As we mentioned before, it's not uncommon to find some additional costs that were not mentioned at the beginning, so watch out for hidden fees. Look for a solution that shows every price upfront.
Features are at the core of a business card portal - it's what makes portals do what they do. But not every company has the same needs, and not every portal offers the same features, so before getting stuck to a solution that does not work, make sure you go through the list of the features provided so you can be confident that they will fit your current and future needs.
Here's a list of the essential features a business card portal should provide:
Team management
While some solutions will only offer a single user account (centralization of all activities through one individual), you might want to look for one that allows multiple users. A multi-user solution will unlock one critical capability: Employee-self ordering.
Users are usually categorized as Administrators and Orderers. The Admins have total control of the account, while Orderers may only perform specific tasks, such as ordering for themselves.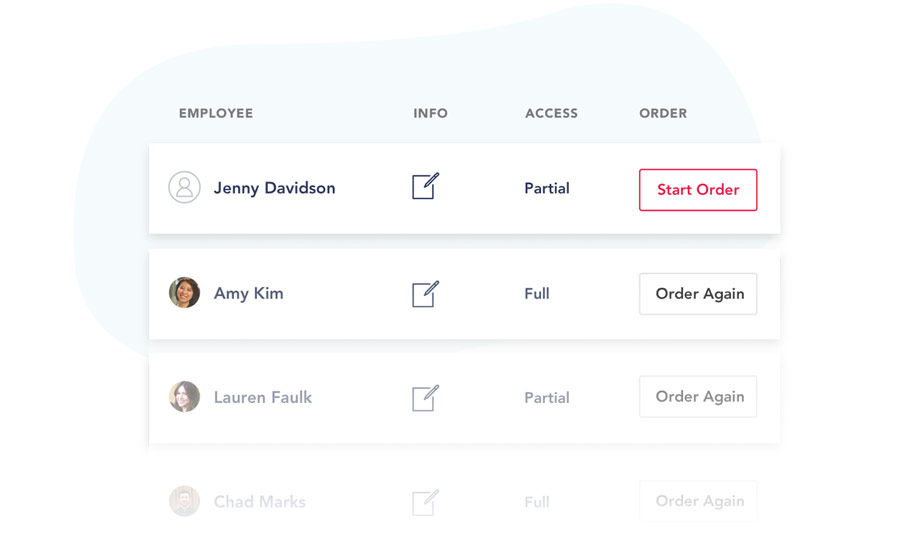 Employee self-ordering
The employee self-service feature (or workflow), as you can imagine, enables employees to order their own business cards by themselves.
A convenient solution should ensure that the self-service workflow can be implemented quickly and that every order can be completed within no more than a few minutes.
While some businesses prefer to have one purchasing person ordering cards for the entire company, it's proven that the employee self-serve workflow can cut out times by up to 90%, so we strongly recommend choosing a solution that offers this feature.
Editable templates
Probably one of the most essential features. Editable templates have the goal of both making it super easy to order business cards for anyone on your team (even for those with no design skills) and to maintain brand consistency every time a business card gets printed.
A modern business card portal will automatically turn your business card designs into editable templates that can be easily edited/customized and used to order by any employee.
The team-member placing the order can use the editable template and change the imprint information on-site, for instance, by entering another name or phone number on the business card.
Also, If an Admin makes changes on the template, the new version will be available company-wide immediately, guaranteeing brand consistency every time.
Multiple templates
While some solutions will only let you upload one business card design, others will allow you to upload several, or even as many as you want (the latter may incur extra fees).
Having a catalog of multiple editable templates is especially useful for companies that use more than one business card design (i.e., one for each department). Also, corporations that have several brands under their umbrella will usually need to print different designs for each brand.
Maybe not today, but one day in the future, you might need a second or third design, so we strongly recommend choosing a portal that lets you use as many templates as you want.
And before committing to a solution, check if they charge for the feature, as some do, and others don't.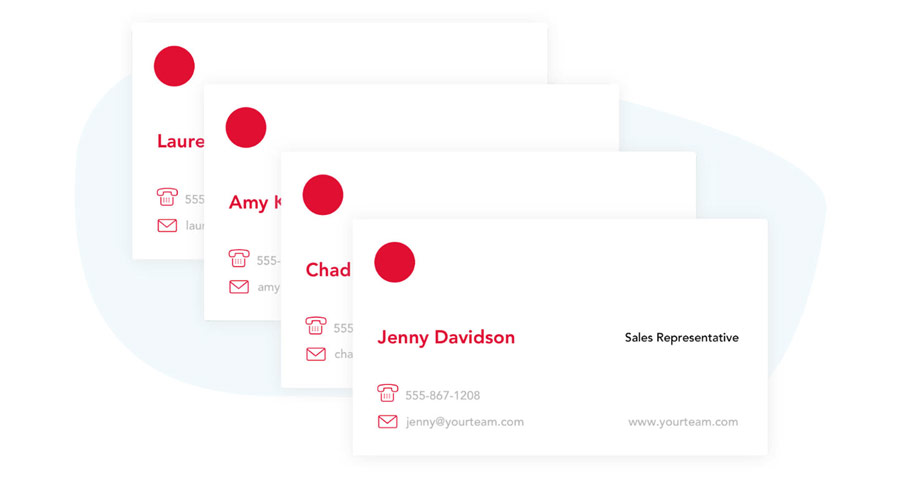 Multi-location shipping
Does your company have several offices? Will your employees be getting their cards in different locations? If yes, you'll want this feature. The multi-location option makes it easy to ship orders to different people and places with different addresses in an effortless manner.
Multiple payment options
What's your preferred paying method? These are the most common options:
One credit card for the entire company
One credit card per department, or office
Each team member uses their own credit card
Larger companies usually prefer invoicing or "bill me later" payment option
Easy company-wide roll-out
Convenience should also come into play when implementing the solution, no matter if your company has 50 or 10,000 employees.
A professional solution is one that embraces modern web development. Many portals out there are currently running ten years+ old software. Some portals require complex integrations that can take up to a couple of days to be implemented.
Just like Microsoft Office is moving to Office365 in the cloud, a modern business card portal should be a cloud-first solution.
Setting up a new portal using a modern solution shouldn't take more than a couple of minutes. And, once your portal is ready, one email - or just sharing an invite link to your portal on your intranet (or Slack) - should get the job done.
So whenever you are comparing options, make sure to learn about implementation times and ease of roll-out.
Approval Process
If your company is small, probably, you won't need an approval workflow. But when 50, 1,000, or 10,000 employees start ordering business cards on their own, you will need it.
Some companies don't feel confident in letting employees at various locations order their personalized cards instantly without a gatekeeper overseeing the orders, and that's where the "Approval" feature comes into play.
If you choose to appoint an administrator as a gatekeeper, they will receive email notifications for all new orders. This allows potential typos and other errors to be easily recognized and corrected. The administrator may then approve, deny, or change any necessary information before confirming the order. The usual traffic of emails between customer, receiver, and printer to approve a proof is eliminated.
At Brandly, our records indicate that the 'Self-service + Approval' workflow is the combination most large companies prefer to use when it comes to save time and sleep peacefully at night, knowing that every order has been reviewed.
Ordering Permissions
As we mentioned previously, an account will typically count with two types of users. The administrators, who have total control of settings, and the orderers, who can usually only order for themselves.
The ordering permissions allow admins to control what aspects of the design and order can be edited and changed by orderers.
Locking fields and designs, limiting the type of paper, and quantity, are some of the most common permissions.
Dedicated Account Managers
Even if you're design and tech-savvy, there will be times in which you'll need assistance or questions. Make sure to pick a solution that offers you account managers that can look after your projects from start to finish if necessary.
Order Tracking and History
Order Tracking helps your purchasing administrator by giving a constant overview of who ordered what and when. As it's a summary of all orders.
You'll want to be able to see the submission date, shipping information, delivery confirmation, orderer's info, proofs of the orders, etc.
We've arrived at probably the most popular question, and the short answer is: as much as you want to spend.
Some providers will want to charge a monthly or yearly fee that can go up to thousands a year for "maintaining" your portal, but fortunately, there are great solutions that are entirely free.
---
Warning - Shameless self-promotion
At Brandly, we strive to provide the most straightforward ordering solution of high-quality business cards for large teams, with exceptional service, and at a competitive price.
Our portals will most likely count on all of the features your company needs (and more), and we don't charge you a penny for opening or maintaining a portal. You only pay for the cards you order.
Not only do we offer a free business card portal, but we also provide:
Free US shipping
Free double sided printing
Employee self-ordering
Easy company-wide roll-out
Top-quality prints
Business level pricing on cards
Lightning-fast re-ordering
Bulk ordering
Human QC on every order
100% satisfaction guarantee
Much more.
If you're interested in learning more about Brandly's free business card ordering portal, click here >
---
A business card portal is an online platform that helps brands and organizations (especially large ones) to get business cards printed up efficiently and expediently.
After years of working together with large and small clients in the printing industry, studying how both modern business' needs and online solutions evolve, and preaching that evolution to our customers, we're happy to say that Brandly's business card ordering portal is the easiest, fastest, and most convenient solution out there.
Our records indicate that most large businesses find the 'Self-service + Approval' workflow as the preferred one to use when it comes to saving time — letting employees self-order as needed is becoming the standard.
You can choose to pay up to thousands of dollars in fees to open and maintain a printing portal, or you can go for a free one. There are great free solutions such as Brandly that come with most likely all the features you'll need.
That said, if you're still struggling to find a business card solution that fits your needs, or even not sure if you need one, give us a holler. We'd love to help your team alleviate the pain that ordering for large organizations can create.
Or you can also open a free private business card portal for your company now and take business cards off your to-do list, forever.