How to Choose the Right Business Card Paper Type
6 Things to consider when choosing the business card paper type for your company
---
Are you a designer?
Brandly's Partner Program makes it easy to earn recurring revenue from your clients and ensure your design business is set up for long-term success. Built with ease-of-use and money saving in mind, you'll be able to provide the best and only free business card ordering solution to your clients. And behind the scenes, you'll be earning extra income and strengthening your valuable client relationships.

To step up to the next level of growth & achieve an unlimited recurring revenue stream for every business card design you make, join Brandly's Partner Program >
---
Why does it matter?
It's all about the impression you want to give. It's about telling your brand's story.
These tactile marketing tools are made to be passed from one person to another, meaning how they feel is equally as important. That's why choosing the right paper for your cards can make the world of difference when it comes to leaving a long-lasting impression
While it can be tempting to just choose any card stock and get into the design and printing phases, picking out the right type of card is the first step in creating a professional and memorable business card that won't just get thrown away.
Here's everything you need to know before choosing your business card paper type:
Business card paper type fundamentals
Weight
When we say weight, this refers to the thickness and stiffness of the card used for your designs. It's a measurement of how many hundredths of an inch thick a single sheet of the paper is. In business cards, the thickness is expressed by points, where a point is equal to one-thousandth or .001 inches. Paper that is 10pt is 0.01 inches thick, 20pt is 0.02 inches thick, etc. The higher the point number, the thicker and stiffer the paper will be.
Commonly, business cards are printed on 14 or 16pt stock, while extra-thick cards are printed on 18pt or 32pt (sometimes even thicker) stock.
Brandly paper thickness options
These are the options that you can find in our catalog.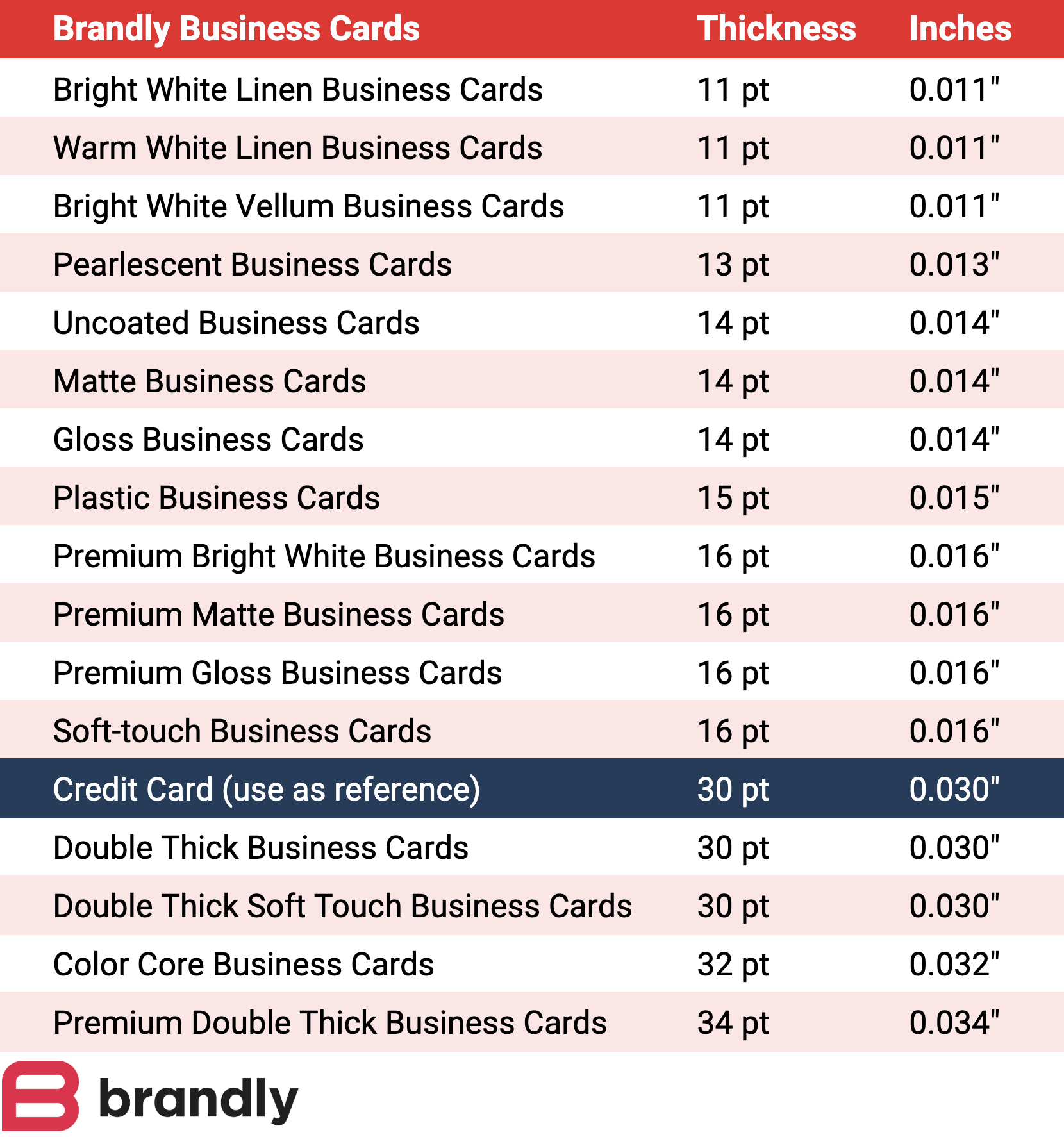 Lightweight 11 to 14 point business cards are often used mainly for display—these are cards you showcase on a desk, hand out at events or staple to marketing collateral. The purpose of these lightweight cards is not to leave a long-lasting impression—these are affordable cards that will wear and tear quite easily.
In contrast, thick cards —30 point business cards and above—are more rigid and can better withstand wear and tear. These are the cards you use to make an impression because they tend to look better, feel better (because of their tactile advantage) and last longer.
It's important to note that the thicker your card is, the higher your expected cost per card will be.
Wondering what's the standard size of a business card? Check our quick guide to learn more >
Finish
As well as choosing a card stock thickness, you'll also need to decide on a finish. The finish adds another layer of possibilities for the "look and feel" of your business cards.
The most common finishes are dull, matte and glossy. Which one you choose will depend on what you plan on doing with your cards and the impression you want to give.
Let's take a closer look at the finishes:
Uncoated: Uncoated paper is non-reflective, similar to printer paper. Uncoated finishes provide more texture than glossy and matte prints, but they don't have a protective coating which means they can get damaged more easily. Colors on an uncoated business card are more subdued but still come out clear, while the overall aesthetic sends out a more classic and natural vibe than the other finishes. This paper type is ideal if you want to write on your cards, or if you choose to keep your costs down.
Coated: Coated papers are finished with a surface sealant, typically clay, to impart certain qualities to the paper such as shine, weight, and ink absorbency. Coated papers come in several options; the most popular include matte, satin, or glossy.
Coated papers often produce sharper and cleaner printing—especially in photos and fine details—than uncoated papers.
Matte: Dull/matte stocks are smoother and more elegant than uncoated, but not shiny like gloss papers.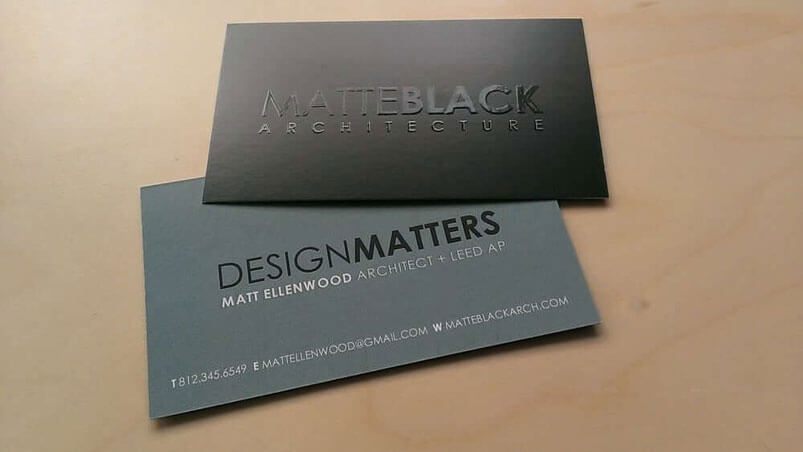 Satin: Satin coated papers are slightly shiny. These have a lower gloss level than papers with a gloss finish, yet higher than the matte finish.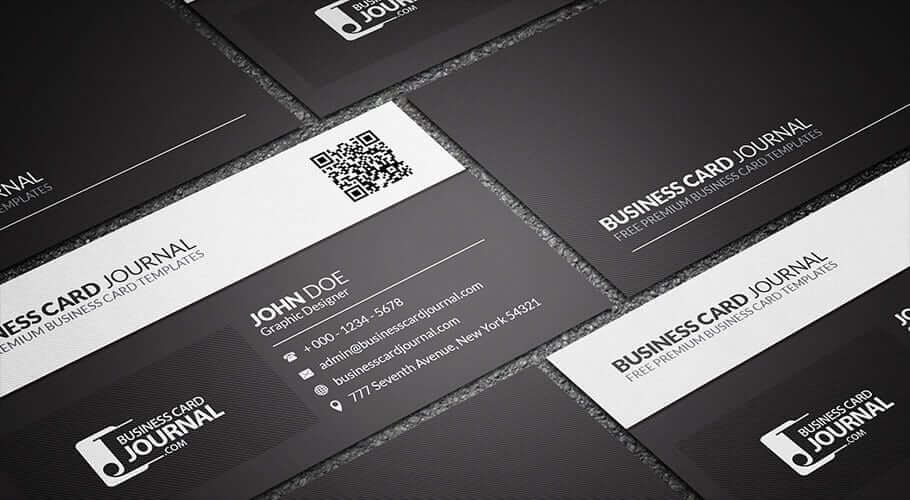 Gloss: Glossy finishes offer protection against potential moisture and give your designs a nice shine. If you've got colorful graphics, the gloss finish will add vibrancy and contrast to your business cards and make them look modern.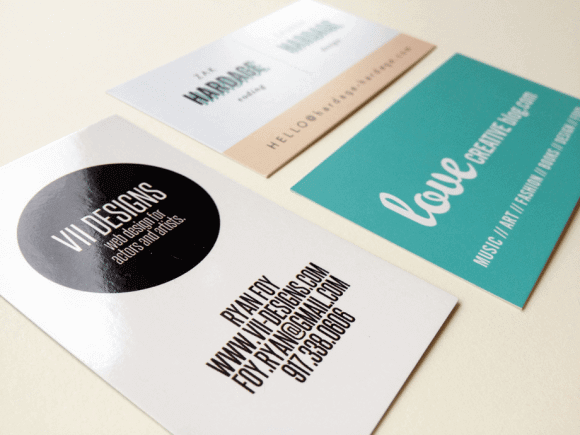 Specialty papers and finishes
Aside from choosing a card stock and finish, you can also opt to have your business cards printed on specialty papers or with added special laminations (applied after a piece is printed).
Again, which ones you choose will completely depend on the design of your cards and the impression you want to make.
Here are the two most common options.
Soft-touch: The soft-touch finish dramatically alters the tactile feel of your business cards. It adds a velvety lamination and extra protection while also giving the paper a luxurious feel. Soft-touch business cards are great if you're looking to leave a lasting impression. It softens the colors, giving printed images a silky appearance.
Plastic: These sturdy and flexible business cards are made from high-quality PVC plastic. Commonly called 'the indestructible business card', this option stands up to water, wear, and tear. It has a semi-gloss finish and works best with bright colors.
To see Brandly's full paper catalog, click here >
Choosing according to the impression you want to give
Because not all brands are looking to be fancy or elegant, keeping in mind the impression you want to convey is essential when choosing business cards. Think of it this way, brands who choose to be positioned as an affordable solution may purposefully go for a 'simpler' design and paper. On the other hand, premium brands might prefer thick or specialized papers.
Want to appear affordable? We recommend the standard business cards.
Want to showcase a premium look and feel? Choose thicker or special paper such as the Premium double-thick business cards, or the Soft-touch business cards.
Choosing according to your budget
As previously mentioned, thicker paper is generally the priciest option. But we made it easy for you. Here are Brandly's business card papers types organized into budget categories.
Low-price business cards
Mid-price business cards
Top-price business cards
How/where to print your business cards
Once you've got your design sorted out and have chosen the stock and finish you want your business cards to have, it's time for the final step: printing your cards. There are mainly two ways you can do this.
Print at Home
Printing at home seems like the easiest and most cost-effective option, but the quality just won't be the same as having them printed by a professional.
Go Pro
Choosing a professional printer means the stock and finish of your business cards will be held to a higher standard, giving your cards a more professional and memorable first impression.
At Brandly, we offer not only great prices, but also high-quality papers, free shipping, and even a free business card ordering platform that holds all your designs in one safe place so you can print more cards with the click of a button. This means all your designs can easily be printed on the same stock and with the same finish, giving them a cohesive and professional look every time. ## How/where to print your business cards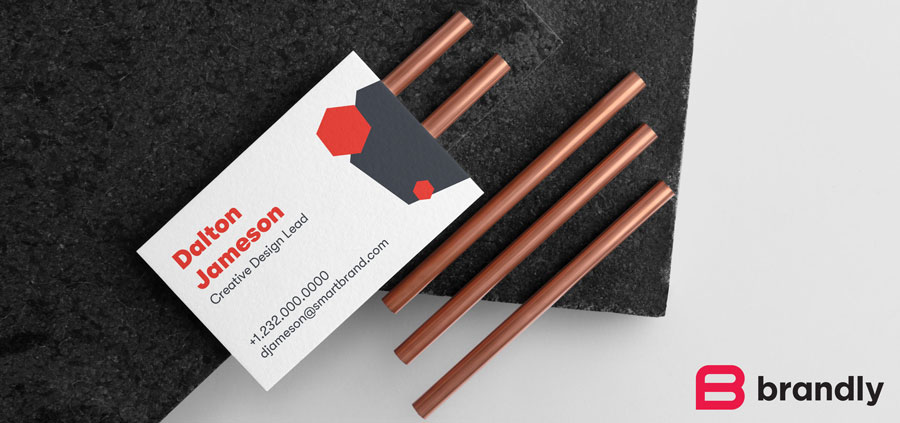 The takeaway
Choosing the right paper type for your business card is not an easy job. But considering the importance of it, we suggest putting effort into making the right choice.
Consider what you're going to be doing with the business cards and what impression you want to give. And of course—consider your budget.
If they're going to be placed in a cardholder on the front desk of your building/event or mailed them out in bulk, you can get away with thinner card stock. But if you're planning to personally hand them out at important events or social meetings, a thicker card stock will last longer and help your cards stand out.
At Brandly, our records indicate that the most popular business card choice is the 16pt premium coated matte option. It conveys a great impression, and it has a great value (quality/cost).
That said, if you're still struggling to choose the right paper type for your business cards give us a holler. At Brandly, we strive to provide the simplest ordering solution of high-quality business cards, with exceptional service, and at a competitive price.
---
Want more actionable tips to help take your branding, design, and marketing knowhow to the next level? Subscribe to our newsletter—delivered straight to your inbox once a month.