Standard Business Card Sizes (+ free templates)
If you've ever found yourself stuck on where to begin when starting a business card layout from scratch, you're not alone. It can be a hassle to remember the exact dimensions, margin sizes, and program settings each time you want to design something new.
Here's a quick guide of the most popular business card sizes, some fundamental business card design tips, and two alternatives that will help you create your business card in a jiffy.
---
TOC
---
If you'd rather skip the yak and want to just get into designing a standard sized business card using Brandly's free templates, here you go:
Download Brandly's standard business card size templates >
Now, if you prefer to learn more about business card sizes before jumping into creation, well then, keep on reading.
There is really no single worldwide 'standard business card size' for a business card. Each region around the globe has a preferred business card size which is usually called 'standard', but that's not to say that other sizes aren't also used by businesses based in that region.
In the United States, the standard business card size is 3.5" x 2" (inches), or 89 x 51 mm (millimeters). This is the final size, not including the extra 1/8" inch for the bleed (which gets trimmed off after the printing). If your design has bleed, be sure your file is set up at a dimension of 3.75" x 2.25" (inches) to accommodate the extra area that will be trimmed off. We'll explain in-depth how the bleed works later on.
| Region | Inches | Millimeters | Centimeters | Pixels | Aspect Ratio |
| --- | --- | --- | --- | --- | --- |
| US and Canada | 3.5 x 2 | 89 × 51 | 8.9 x 5.1 | 1050 x 600 | 1.75 |
| UK | 3.35 x 2.17 | 85 x 55 | 8.5 x 5.5 | 1005 x 651 | 1.75 |
| Japan | 3.58 x 2.17 | 91 x 55 | 9.1 x 5.5 | 1074 x 651 | 1.65 |
| South America | 3.54 x 1.97 | 90 x 50 | 9 x 5 | 1062 x 591 | 1.8 |
| China | 3.54 x 2.12 | 90 x 54 | 9 x 5.4 | 1062 x 636 | 1.67 |
| India | 3.54 x 2.16 | 90 x 55 | 9 x 5.5 | 1062 x 648 | 1.64 |
It depends. We strongly suggest you to use a vector-based design tool to create your business card design, but if you're already creating a business card design using a pixel-based design program like Photoshop, the size in pixels of a standard business card depends on the print quality required or desired. A high-quality looking business card should be printed in 300 PPI (at least), so the size of a business card in pixels–at 300 PPI– would result in 1050 pixels x 600 pixels.
If you're struggling with sizes and pixels, prepare your design in inches instead. Most design software can easily convert pixels to inches or millimeters, which are the most common for print.
Understanding the elements of a standard business card will ensure your design is set up to the right specifications for printing. With that, you can focus on design factors, such as color, layout, and elements such as typography.
5 Tips for print perfection
Follow these tips to make sure your standard sized business card design is optimized for printing.

Business card size and corners
At Brandly, we print US standard sized business cards. That is 3.5" x 2". You can choose either square corners for a more classic style or rounded corners for a modern style.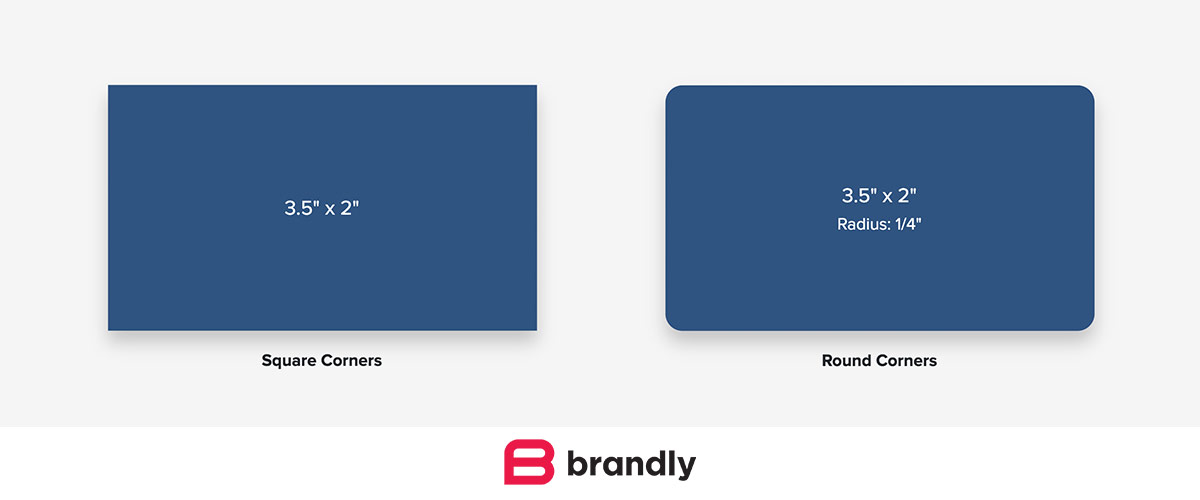 For a standard business card, the safety margins are about 1/8" from the cutting edge so make sure to keep any text or logos within a 3.34" by 1.84" area. This is where a standard sized business card template can help you with setting up a design layout for printing.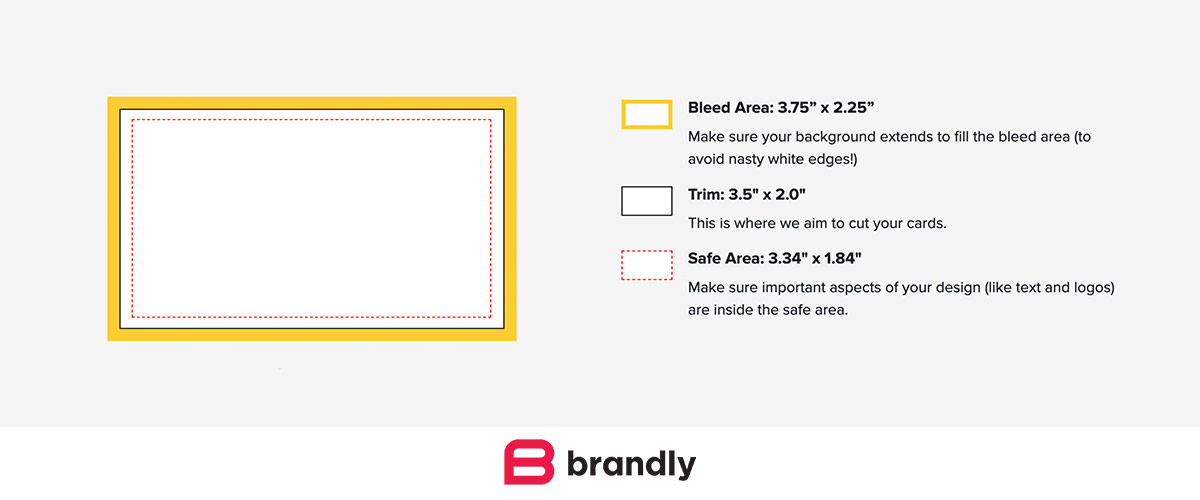 Understanding the bleed of a business card
The bleed is an area that gets printed beyond the trim edge of the business card to avoid white lines when we trim it. If your business card contains a background color or graphics that extend to the edges, make sure to add a 1/8 inch bleed beyond the trim.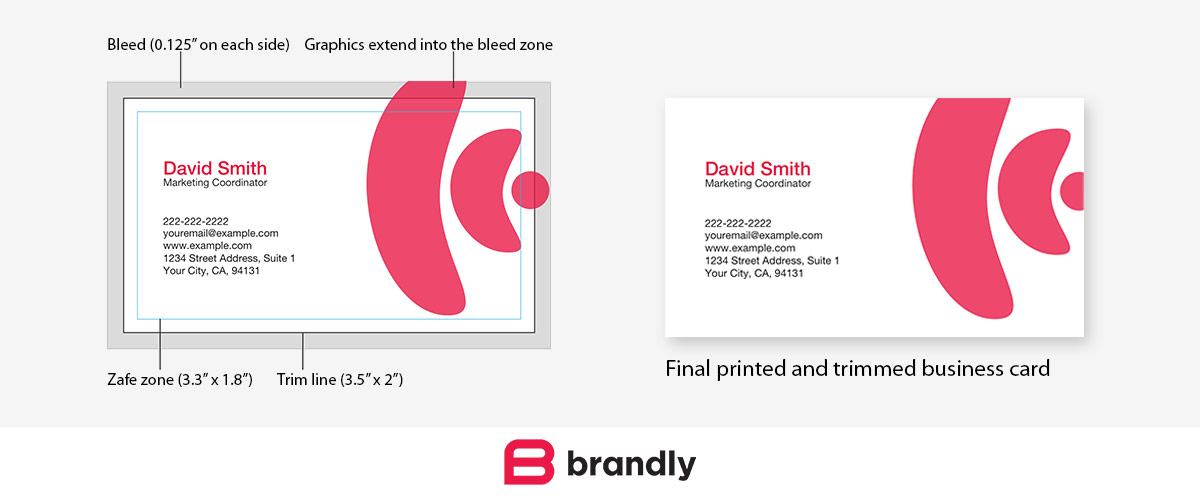 Why start from scratch when you can use a template?
Both professional designers and those who are just learning the basics of design will benefit from starting with a standard business card template. Brandly's template is simple and easy to use and can take a great deal of stress out of creating a US standard sized business card from scratch. It is a great reference and includes the recommended guidelines for setting up a new layout, including bleed and safety margins.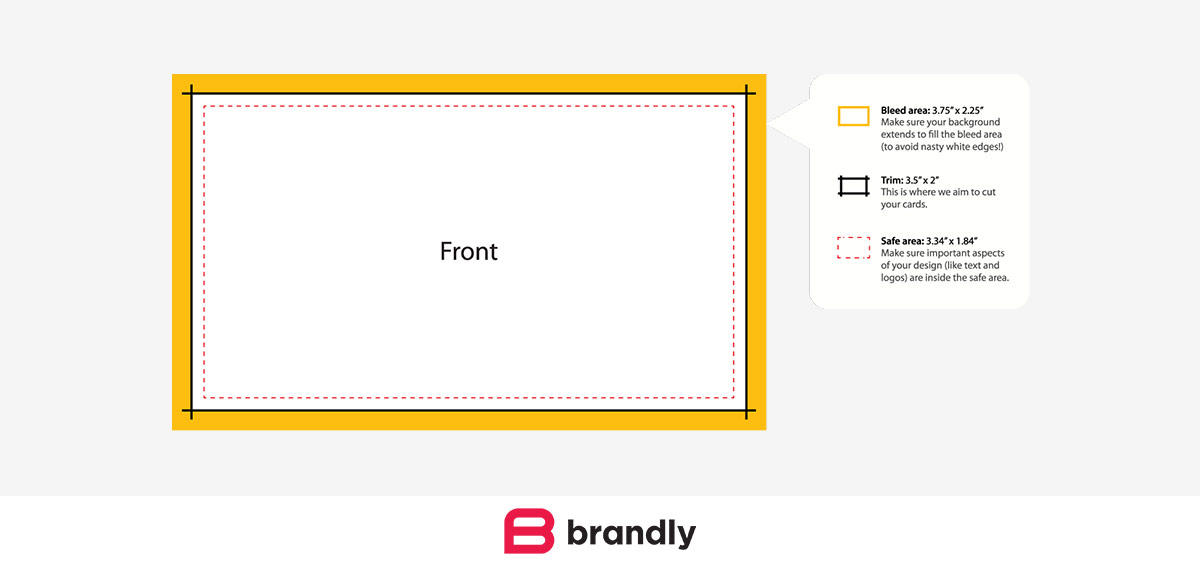 Download Brandly's standard business card size templates >
The template comes in a downloadable PDF, compatible with most design software including Adobe Illustrator, Photoshop, and InDesign. No matter which one you use, it's important to know how to set up your design so that you get great results you can feel proud of. Even the most experienced designers use templates to save time when they create a standard sized business card from scratch.
Over time, it gets easier to remember the details of a standard business card size, from the bleed to the margins. If you start with a template, you'll never be in doubt about whether your design will be produced accurately.
Before jumping into creation, we highly recommend visiting Brandly's artwork guidelines for great resources on preparing your print-ready business card, and our guide on how to choose the right business card paper type.
US Standard business card size
Business card size in inches: 3.5" x 2"
Business card size in mm: 89 x 51 mm
Business card size in cm: 8.9 x 5.1 cm
Business card size in pixels: 1050 px x 600 px
At Brandly, everytime we design a new business card, we start with this blank template. Enjoy!