Top 5 Passive Income Ideas For Designers
Most freelance designers drive income from working with clients. A client comes to you with a design request (like a logo, a business card, or a custom illustration), you create the design asset, and they pay you for the project.
This kind of business set-up is called active income. And while active income can be a great way to drive revenue for your design business, it's not the only way.
Passive income can help you dramatically increase your design income—without dramatically increasing your workload. But what, exactly, is passive income? Why is it so effective? And what are the best passive income ideas for designers?
Active income, passive income, and Pareto's Law
First things first—before we jump into the most effective passive income strategies for designs, let's quickly touch on the difference between active income and passive income.
Active income is a business scenario when you have to take action in order to get paid; so, for example, if a company hires you to design a logo for their new brand relaunch or if you charge an hourly consulting fee to help a client brainstorm new web design ideas. With an active income model, you have to consistently be putting time and effort into driving revenue for your design business.
Passive income is a bit different. While you have to put in some effort in order to set up your passive income stream, once you're all set up, it continues to drive revenue for your business—with little or no effort required from you to keep it going.
Passive income is a perfect example of Pareto's law in action—also known as the 80/20 rule.

Pareto's law is a productivity principle; basically, it's the idea that 20 percent of your effort will produce 80 percent of your results—and if you want to be your most productive and effective self, you need to focus your time and energy on that 20 percent. Or, in other words, while most people think that more time working = increased productivity = more revenue, the truth is, success isn't about working longer or harder—it's about working smarter.
And passive income is the definition of working smarter. You spend a little time and effort on the back end developing a passive income stream—and it continues to drive revenue for your business for years to come, without having to continue to spend time and effort to get that revenue.
Clearly, embracing a passive income model is a great way to take your earnings to the next level. But what are some of the best passive income ideas for designers?
1. Sell your designs on online design markets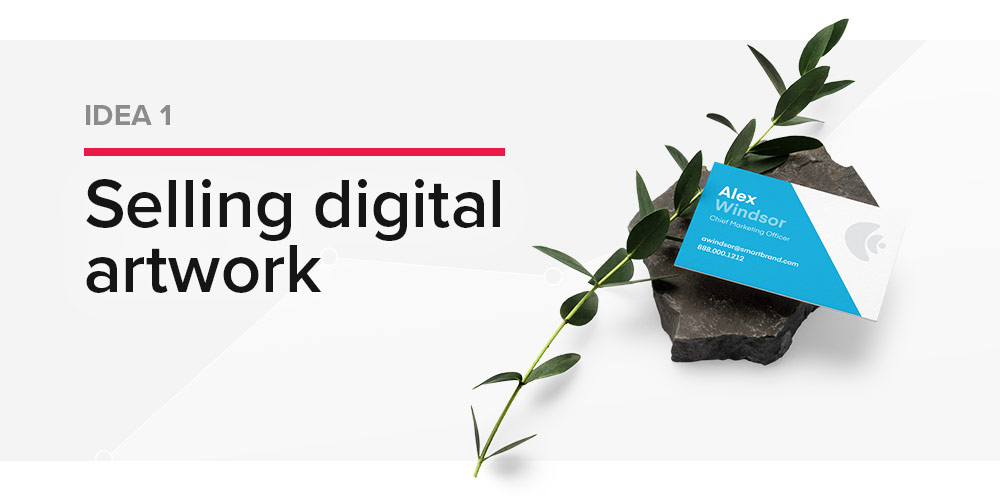 When you sell a design to a client, you get paid for that single design—and that's it. But when you list a design on an online design market (like Creative Market), you can sell that design multiple times to multiple people—and you'll continue to get paid off that same design over and over again.
If you want to develop passive income from your designs, focus on creating templates and mockups that can easily be customized; that way, you can list your designs on online design markets and sell them to clients—who can then customize those mockups and templates to make them their own.
Some ideas:
Presentations
Resumes
Website layouts
Business cards
Mockups
Designs on online design markets can range anywhere from a few dollars to upwards of 60 dollars—so while each individual sale won't drive that much revenue for your business, when you start selling a high volume of your designs, it can put some serious cash in your pocket (especially when you compare the revenue to how much time you spent on the original designs).
2. Sell design physical products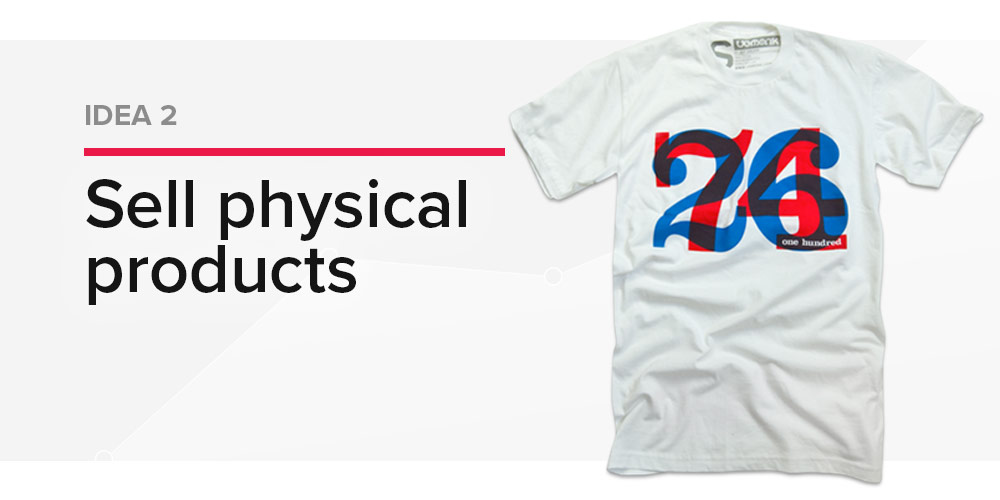 Image source: Ugmonk
Online design marketplaces are a great place to sell your actual designs. But there is a huge consumer base out there that doesn't want to buy designs; they want to buy products.
Create mockups of your designs on a variety of products (like t-shirts, stickers, and mugs) and showcase them all online. You can either keep a small inventory of the products in your home—or, when you get an order for a product, you can use a third-party print-on-demand company (like Printful or Printify) for fulfillment. After receiving the order, these businesses will produce the product and ship it directly to the customer on your behalf.
If you want to be successful selling products online, whether it's through a personal online shop, an online marketplace like Etsy, or social media platforms— you'll need to put some work into marketing your brand. But the only actual design work you'll need to do is in creating the initial design; once that's done, it's just about featuring that design on multiple products, marketing and selling those products, and collecting the profits.
3. Launch a design blog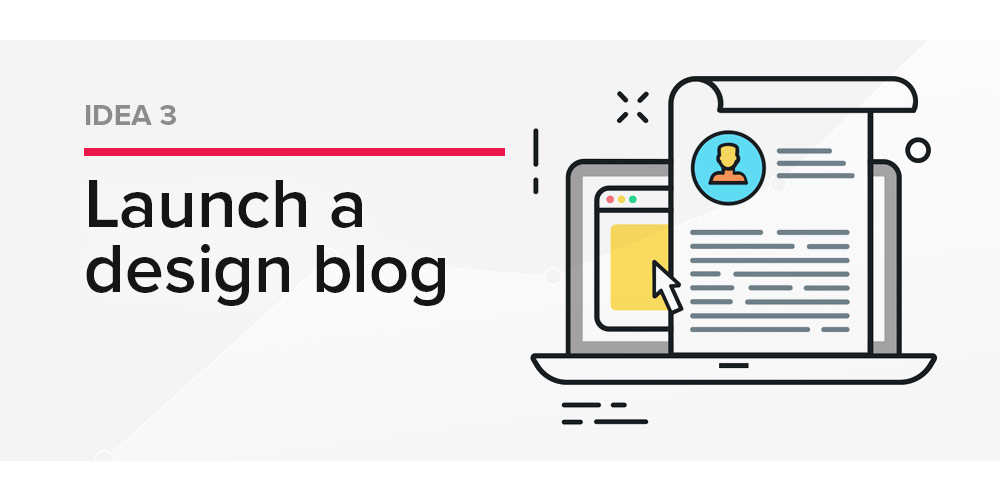 If you like to write, a design blog can be a great opportunity to create passive income streams for your business.
The work in creating a design blog is, of course, in creating the content and actually writing the blog posts. But once you've done that, there are a variety of ways to monetize those posts—and make sure they're driving revenue for your business long after you hit "publish."
Some of the best ways to drive passive income from your design blog include:
Affiliate marketing. Affiliate marketing is the practice of promoting other products and services on your blog; when someone clicks on one of your affiliate links and makes a purchase, you get paid a commission. While you should only promote products or services you trust, adding affiliate links to your blog content can be a great way to drive additional (and passive) revenue.
Ads. Once your design blog is up and running and you have a decent amount of traffic, you can sell advertising space on your website—and get paid every time one of your readers visits a page with an ad.
Cross-promoting other passive income streams. Are you selling your designs on Creative Market? Do you have an Etsy shop? Are you launching a new online course? Your design blog can be a great way to cross-promote those avenues and drive additional traffic and income (for example, by offering a special Etsy discount for your blog readers).
Selling online products (as mentioned above): Did you know you can also use your blog as an online store to sell your designs? Blogging helps to drive more traffic to your site and you can then convert those visitors into customers by selling some of your products.
4. Join Brandly's Partner Program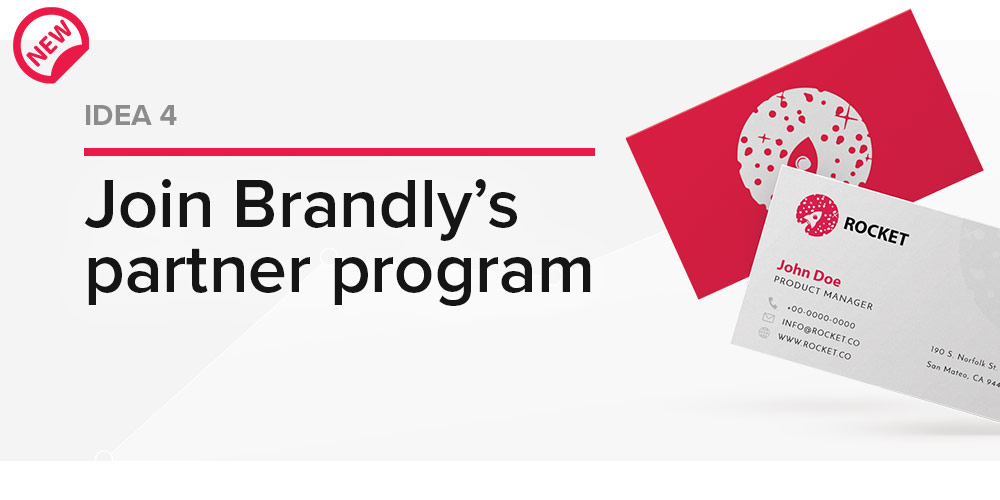 This one comes with a shameless self-promotion caveat, but believe us, you'll be thankful!
Brandly's Partner Program makes it easy to earn recurring revenue from your clients and ensure your design business is set up for long-term success. Built with ease-of-use and money saving in mind, you'll be able to provide the best and only free business card ordering solution to your clients. And behind the scenes, you'll be earning extra income and growing your relationships with your most valuable clients.
How much does it pay?
Brandly's partners receive a commission of 15% on the first order placed by referred clients, and 5% on subsequent orders, forever. Think about all of the business cards you've designed in the past. Now imagine how your income would look like if each of those would bring an ongoing monthly revenue.
Who should join Brandly's partners program?
Whether you're an independent designer and just scored your first big client, or an agency with years and years of experience, if you're building branding pieces for clients, you're a great fit for our Design Partner Program.
So, if you're interested in joining Brandly's Partner Program, just open a free account or contact us requesting joining in. Start making that extra income today!
Request to join Brandly's Partner Program now >
5. Sell your knowledge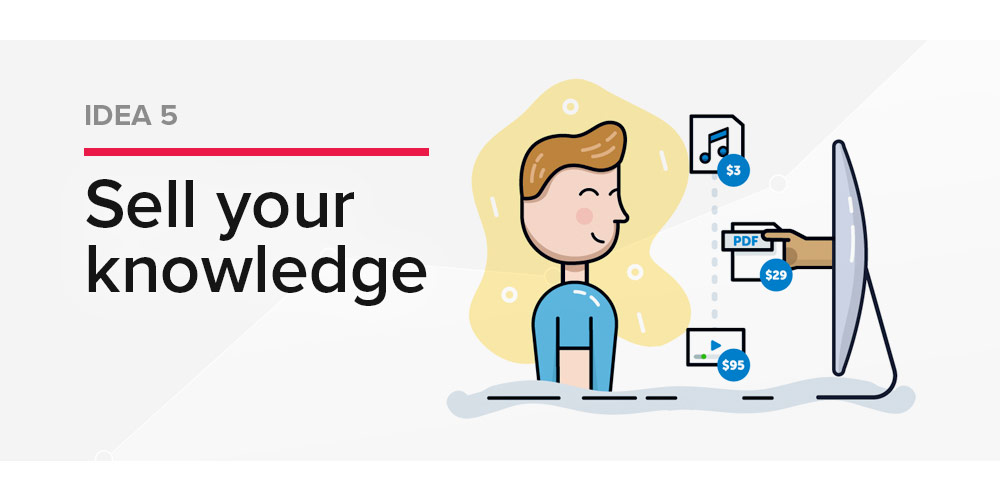 One of the most popular (and lucrative!) passive income streams available to designers? Creating and selling digital products.
Now, full disclosure–creating an online product is an investment. You have to put time, energy, and financial resources into it if you want to create a product that's worth selling—and that people will actually buy. But because people are willing to pay for quality online products—and because you can essentially sell them forever—that initial investment can drive serious ROI for your design business.
There are a variety of online products you can create to drive passive income, including:
Ebooks. If you're a writer as well as a designer, you might want to consider writing an ebook about design. While ebooks aren't the most high-ticket online products, they aren't the most labor intensive either—so if you have a book idea, you can get it written, designed, and out into the world to sell fairly quickly.
How-to guides. There are plenty of people out there who want to become designers—so why not create a how-to guide to help them get there? Creating targeted guides on different design concepts (for example, "how to design your first logo" or "how to choose the right colors for your design project") can be a great passive income idea; there are always going to be people out there who want to break into the world of design—so you'll always have an audience to sell your guides to.
Online courses. If you want to take your design teaching to the next level—and make a lot more money in the process—you might want to consider creating and selling an online course. There's a lot of work that goes into creating a course, but they can easily retail for hundreds (or even thousands!) of dollars, so the income potential is huge. You also have different options on how you sell your course; you could sell your course on your own (and host it on a platform like Kajabi), which gives you more flexibility in how you create, market, and price your course. Or you could develop a course for a well-established online learning platform (like Udemy), which provides a host of tools to help you get started—and, more importantly, credibility and a built-in audience.
Get out there and drive ongoing passive income for your design business
Passive income can be a great way to increase the revenue in your design business—without increasing your effort or time spent working. Some of the options will require more effort than others, but they are all worth trying and even combining.
To start driving ongoing passive income with every client you already have, request to join Brandly's Partner Program now >
Now that you know the best passive income ideas for designers, all that's left to do is get out there and start generating that passive income!