Real Estate Business Cards: 13 Brilliant Examples
The real estate market is a fast-paced industry where in-person connections are critical to building a trusting relationship with potential buyers and customers. An increasing number of buyers and sellers use the web to search for home listings and open houses. But just because people find listings online, doesn't mean that's how they find real estate agents.
While a strong online presence and profile can help boost your visibility, only about 9% of people find their realtors online. In fact, 40% of home buyers and sellers find their real estate agent through a referral or friend.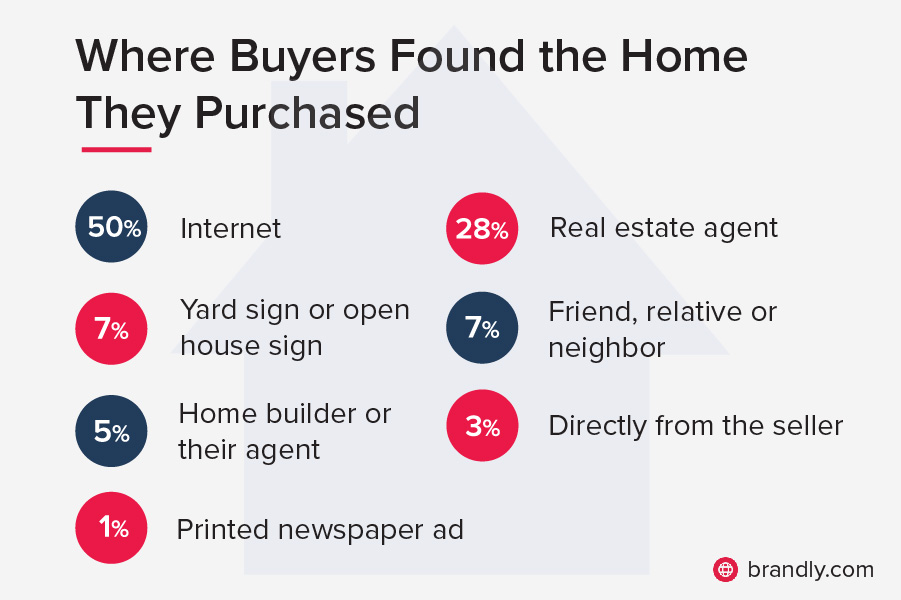 So how do you get started in a competitive real estate market?
For those new to real estate, your network is a great resource for referrals. Setting up that face-to-face encounter can help build the foundation for a lasting relationship with your customers. This is where your business card can mean the difference between making a good first impression and ultimately closing that precious deal or not.
Real estate business cards are the single most powerful way to share your contact information and your credentials to build your reputation and reliability. Additionally, they can also work as the gateway to your personal website and listing of other properties you represent.
One problem you might encounter is that these small (yet surprisingly effective) business cards don't really give you much "real estate" (pun intended) to provide all your details, listings, and showcase your personality at the same time. That's why we put together this collection of the best real estate business cards we stumbled upon. We hope to help you get some creative ideas to boost your real estate business.
Here we go.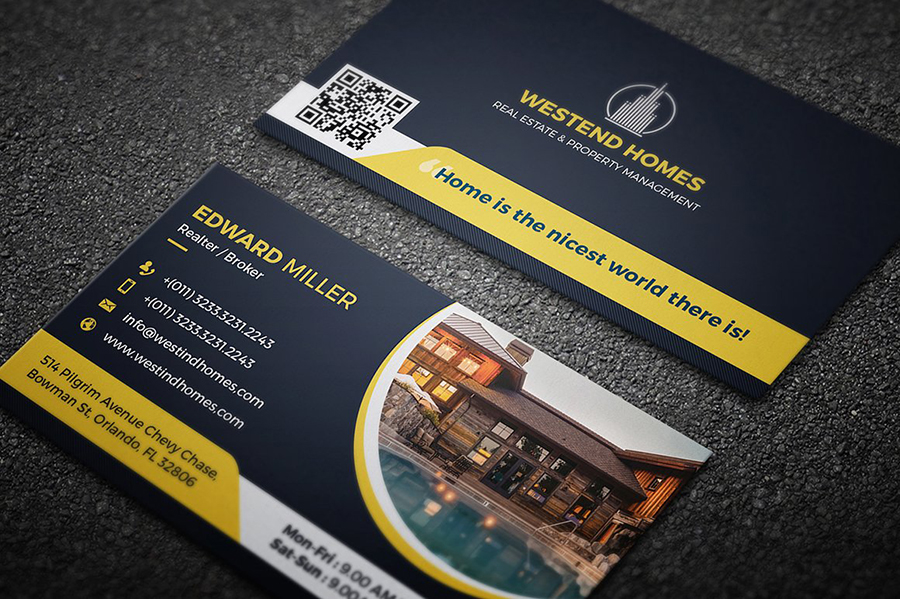 Design by Graphics Egg
Real estate is so accessible online these days, why not double down on making connections through both your business card and your website? A QR code is a great way to utilize a real estate business card for getting traffic to your site, listings, or saving your contact details in a snap.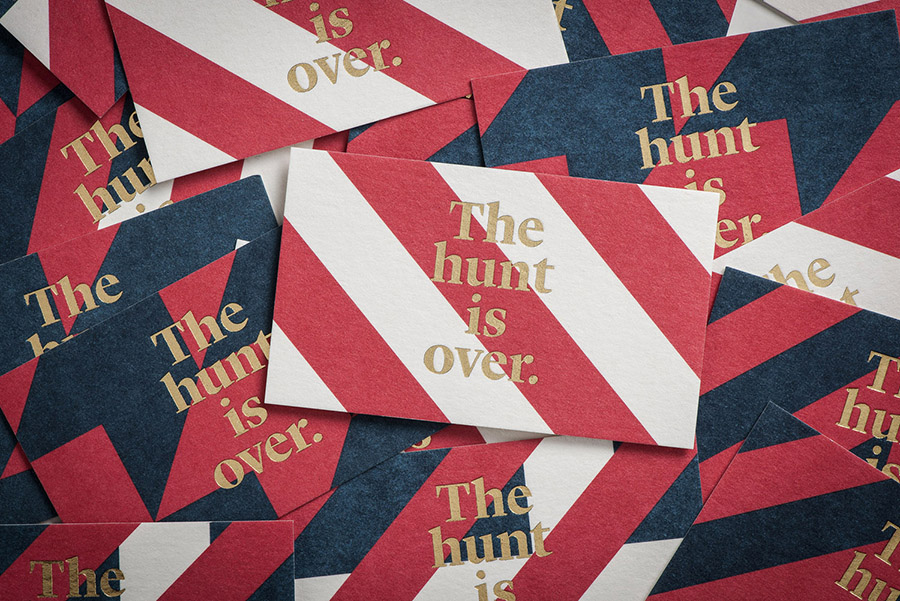 Designed by Parallax Design for Fox Realty
Adding a touch of gold makes any real estate business card luxurious. With patterns and colors that mimic the fashion and style of the fox hunt emphasized by a tagline in gold foil, this business card gives the impression of classic elegance.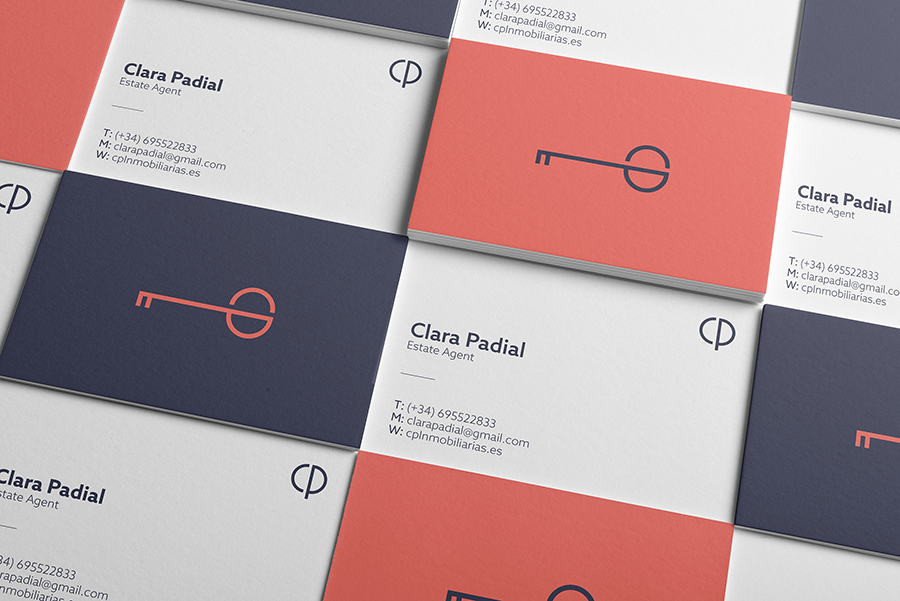 Designed by Lorenzo Bertello for Clara Padial
The image of a key is a common visual in real estate business cards, but that doesn't mean yours can't stand out among the rest. Get creative, use color, and make it your own by incorporating it into your branding.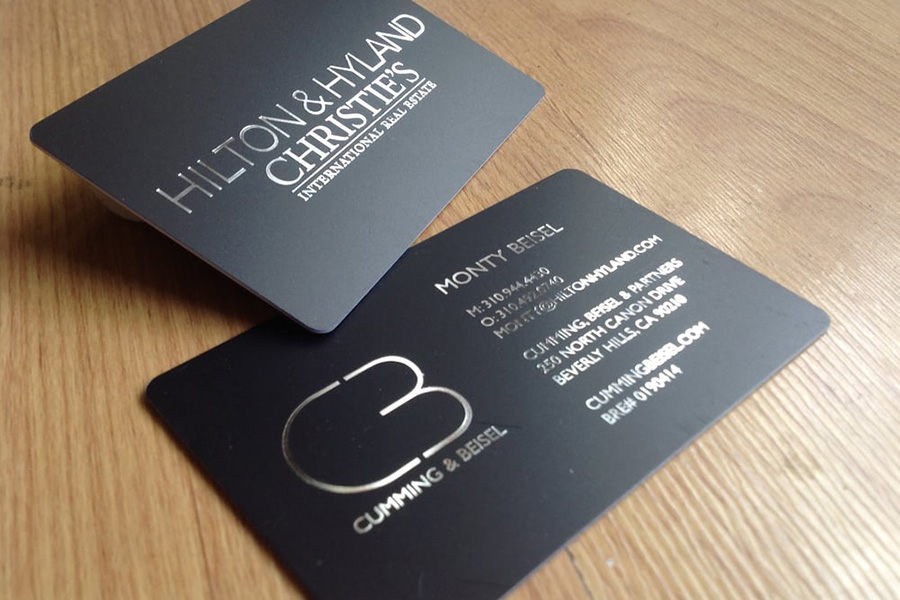 A specialty finish like silver foil can really rev up the retention power of your business card. Nothing says "leader in luxury real estate" better than a sleek logo and a bit of shine. The black satin finish of this real estate business card gives an air of professionalism and class.
Designed by Musa for Mexto – Property Investment
In some cases, realtors may represent properties in multiple categories of real estate. In that case, you may have more than one business card for each. Strong branding is important to make sure that all elements unite under the same identity.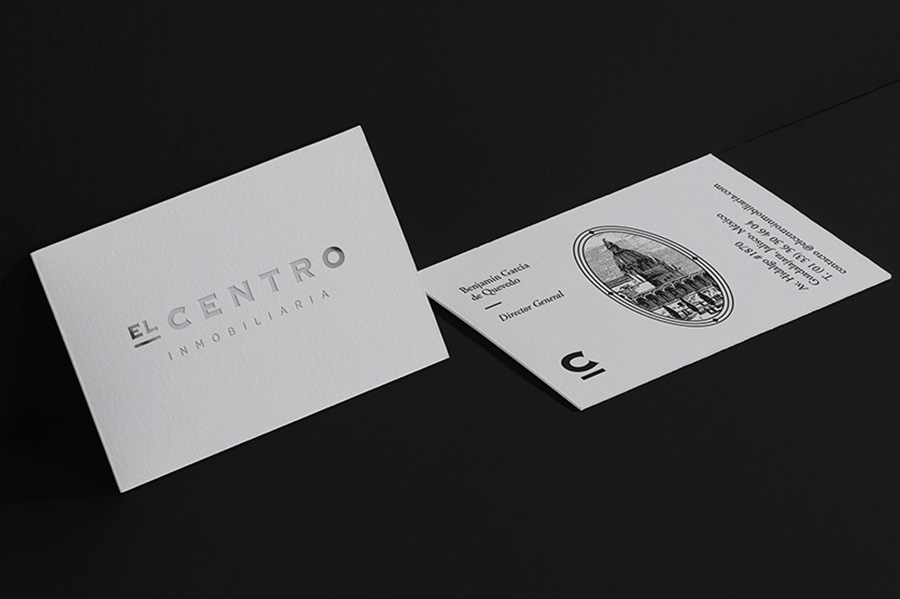 Designed by Saturna Studio for El Centro Inmobiliaria
Some real estate properties often speak for themselves if they have strong cultural significance or heritage. If you're advertising real estate in an area with historical landmarks, play it up with some iconic imagery.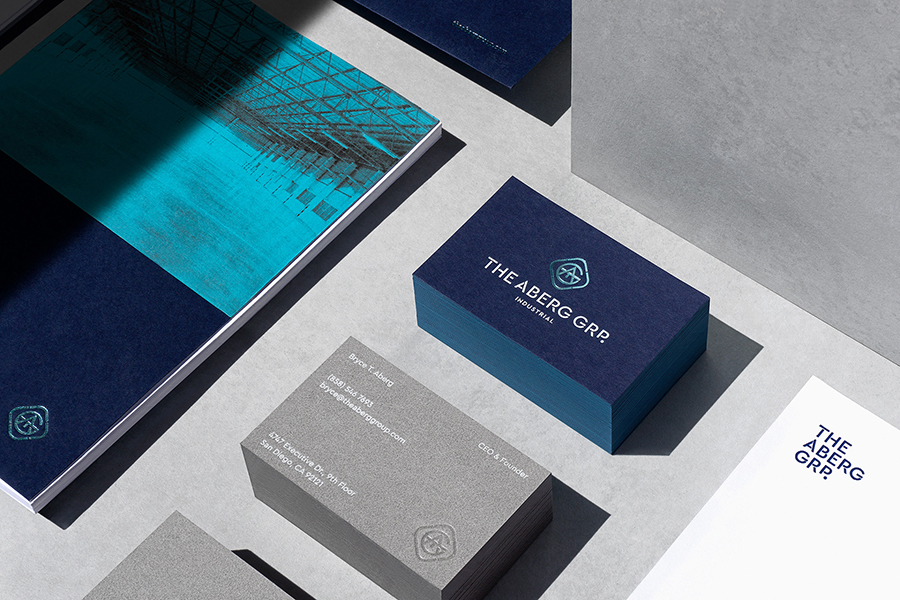 Designed by Mubien Studio for the Aberg Group
For those in the industrial real estate sector, a modern and professional aesthetic lets your potential investors know that you're serious about your business. Keep colors and information minimal and pair with a simple, clean logo.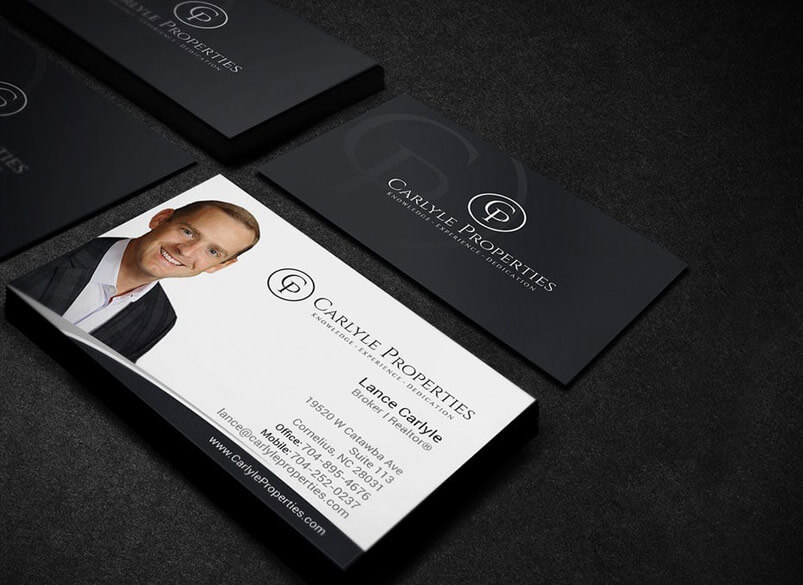 Design by Conceptu
Adding a photo of yourself on your real estate business card will strengthen the relationship you start building with your customers. Not only will this help clients remember who you are, but it'll also make your business seem more personable and approachable.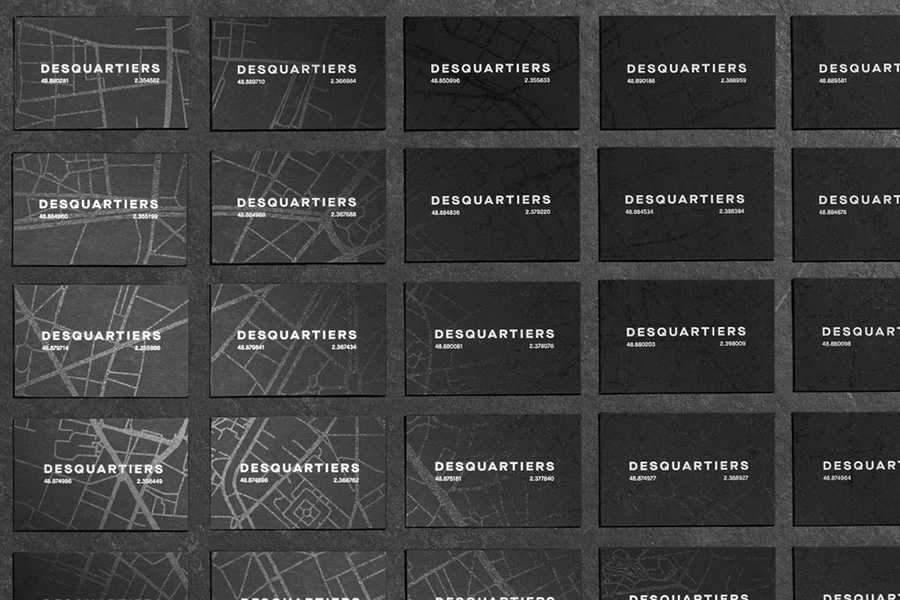 Designed by Feldman Studio For DESQUARTIERS
You're not just selling houses as a realtor, you're also selling a location. A subtle gloss overlay is a unique way to highlight the area where your business is located. This real estate business card reveals a larger map across multiple cards.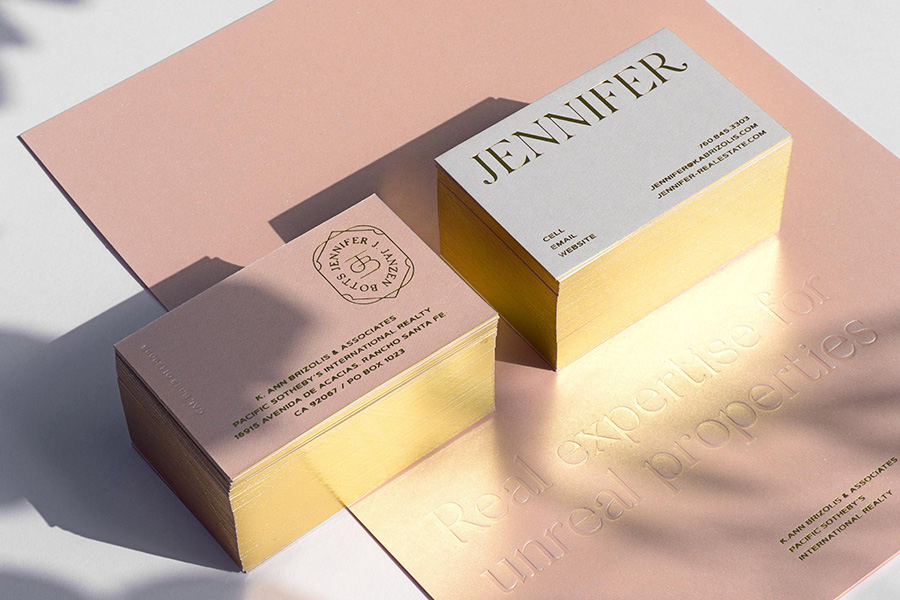 Designed by Mubien Studio for the Jennifer Realty
Buying a new home is a unique experience for each individual. In residential real estate, it's important to connect with your customers and touch base on a personal level. For a more feminine appeal, go with soft colors and warm tones to highlight your style.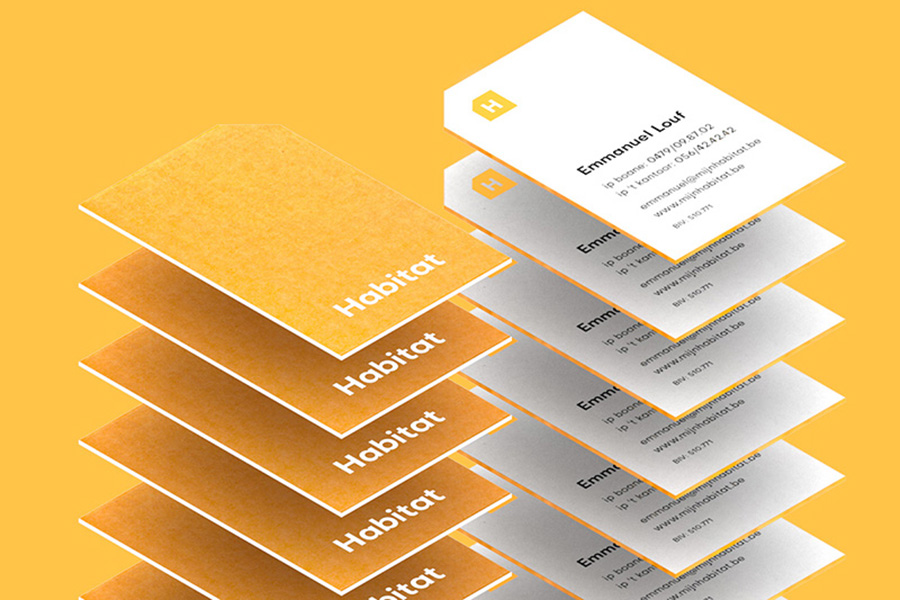 Designed by Stef Hamerlinck for Ollie For Habitat real estate
A minimal design paired with a thick, luxury card stock can really elevate your brand. A bold color and vertical layout pair together for a super clean and modern real estate business card design.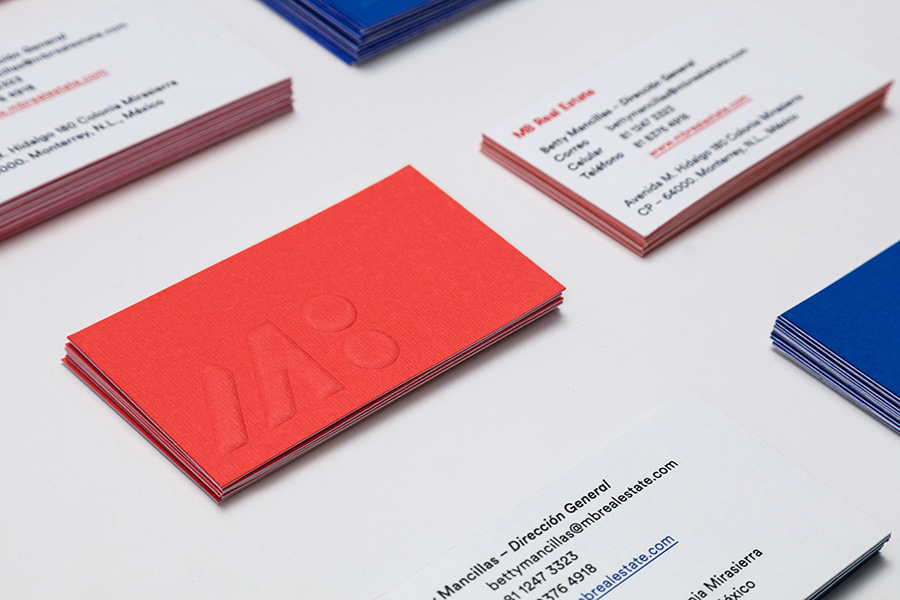 Designed by Mindsparkle Mag for MB Real Estate
Logos on real estate business cards are a powerful branding tool. MB Real Estate represents their logo with a simple mark embossed on two bold colors. This enforces brand recognition and makes a colorful statement.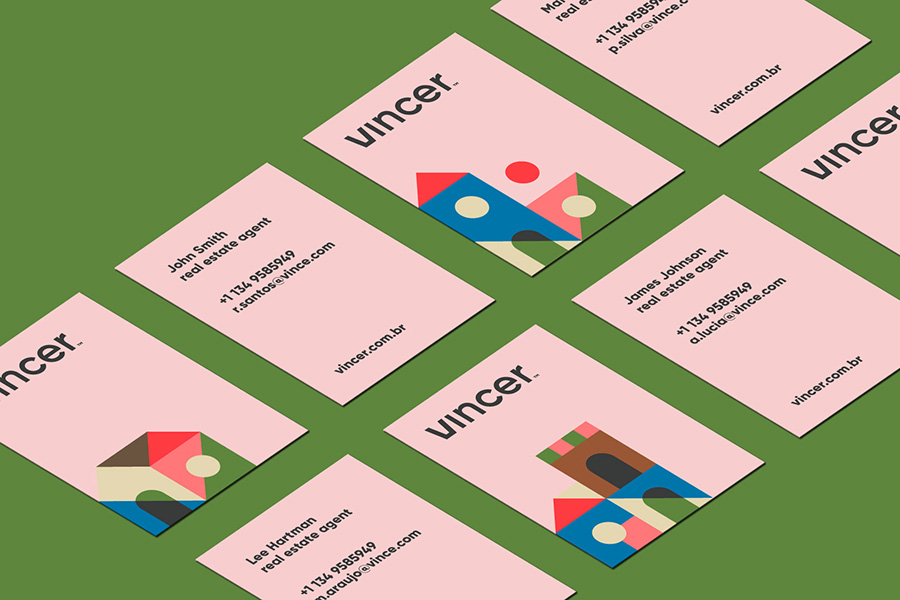 Designed by Gabriel M. Ramos
Playful imagery for a real estate business card makes use of geometric shapes to form different building styles. A grid-based logo system lends itself to architecture and skyline shapes.
Once you've settled on a design that reflects your real estate business and works for you, it's time to get your business cards printed - something that can be seriously overwhelming and costly, especially if you order frequently or are part of a real estate team.
At Brandly, our life's work is to help teams easily print business cards while saving time, money, and offering peace of mind. We do this with a simple (and free!) ordering process, free U.S. shipping and free back-side printing on every order, and by ensuring that every card is on-brand, typo-free, and–if desired–even approved.
Ready to cross business cards off your to-do list? Open a free portal now >