Your Guide to Real Estate Business Card Samples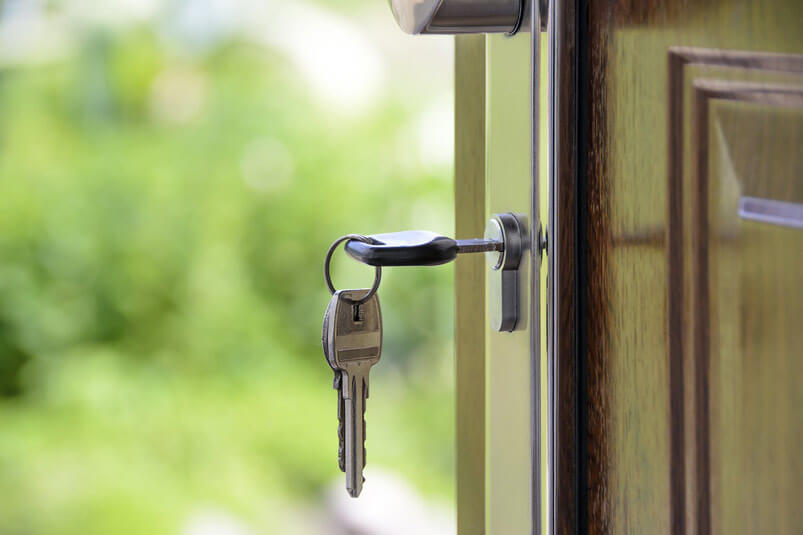 Close more deals with your business card. Find out how to create real estate business card samples with this step-by-step guide.
---
TOC
The Paper Type
The Finish
The Color
The Design
The Key Information
---
As a real estate agent, you'll be doing a lot of meet and greets with potential clients. This is great news, right?
The bad news is, your clients will also be doing lots of meet and greets with other real estate agents. This means that, even though you think you're business is a great fit for them, they might be thinking otherwise if they get wooed by another agent.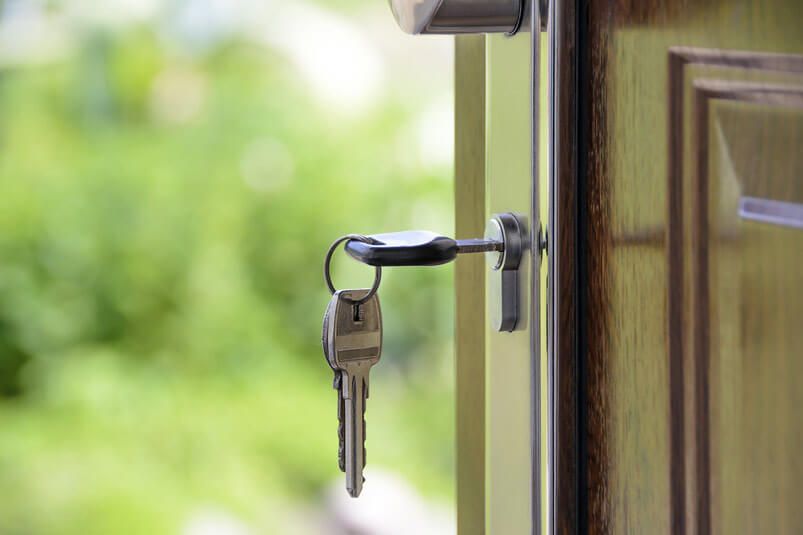 Part of the job involves making sure your agency is more memorable than the next. Of course, there are many complex factors that go into a stand-out brand, but there's an easy place to start - your business cards.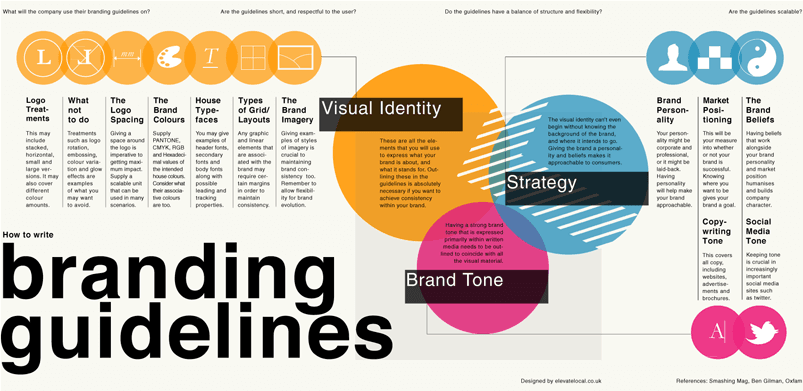 These are the little slips of metaphorical gold that will help prospects remember you and encourage them to get in touch with you once your meeting is over. Despite being small in size, business cards are laden with all the information clients need to come back to you time and time again.
The thing is, there are so many design ideas and potential styles you can go for that it's easy to get paralyzed not knowing where to start. Luckily, there's a simple solution: get real estate business card samples made.
This gives you the chance to get tactile with a selection of different materials, see what your designs look like in the flesh, and try out a few in a split testing experiment with real-life clients.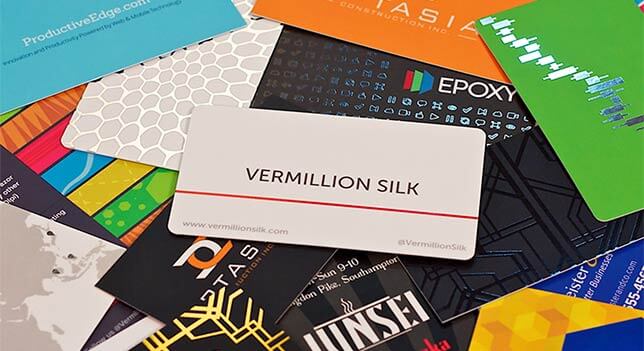 Here's how to get started.
How to Order Real Estate Business Card Samples
Before you start ordering your business cards, there are a few things you need to consider, from the thickness of the card right down to the actual design you want to showcase to prospective clients.
1. The Paper Type
First things first, what do you want your business card to feel like?
Remember here, that different materials send out different messages to clients. A cheap, thin card might make you look less than professional, while a thicker card might give your business a more luxurious edge.
The three most common types of paper used for business cards are:
14-point cardstock (which is a medium-sized thickness)
16-point cardstock (a thick and often luxurious type of card)
100 lb. gloss cover (this is a much thinner type of card)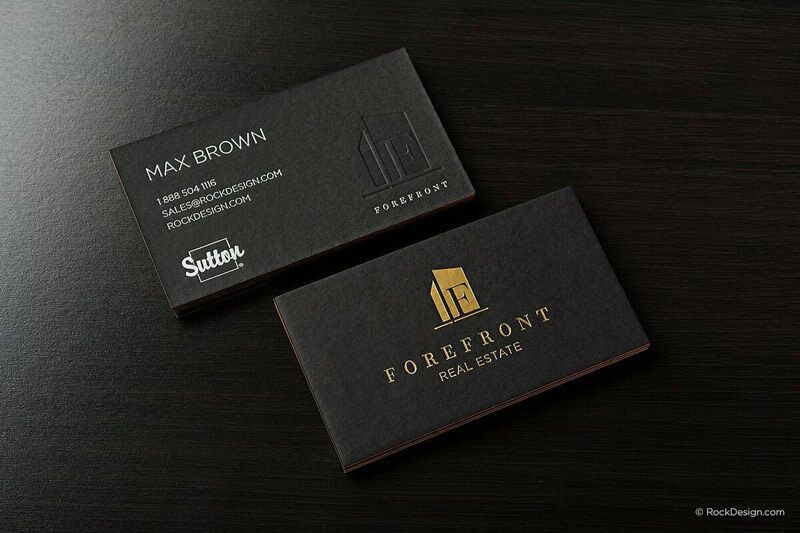 These business cards use a thick, embossed paper to give off a luxurious feel.
If you're getting real estate business card samples printed, it's worth trying out a few different kinds of paper to see which ones feel best in person.
``
2. The Finish
Once you've decided on the kind of paper you want to try out, it's time to think about the "finish". Usually this involves a simple choice of either gloss or matte and the decision is based solely on the kind of vibe you want to send out.
Again, if you're getting samples printed, you could always try out both to see which one your design looks best on.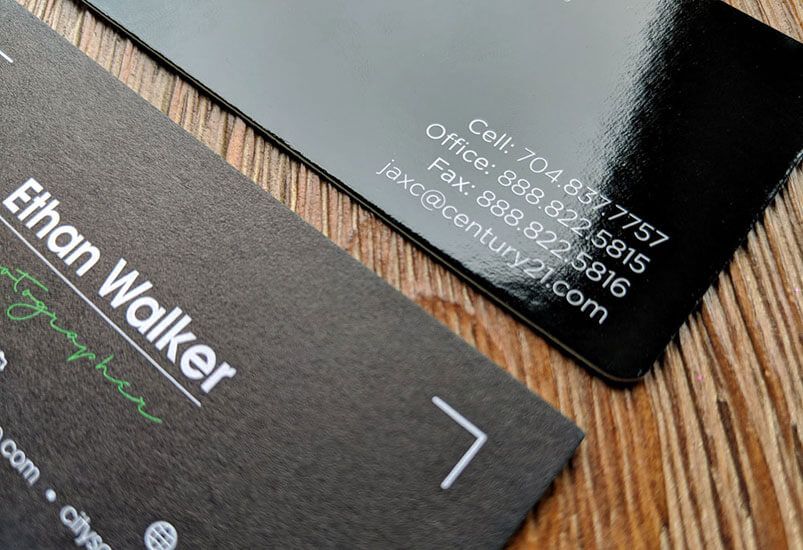 An example of a matte finished card (left) and a gloss finished one (right).
3. The Color
Color is an important part of standing out and can help differentiate your business card from others. That being said, you want to get the colors just right to match your branding and the message you want to send out about your real estate business.
For example, if you sell luxury homes in California, you're probably going to take a more sophisticated approach to color than a brightly colored, mismatched palette (unless, of course, that's exactly what your branding is like).
This realtor uses a colorful design that still feels professional.
Again, it's worth trying out a few different color matches in your samples to see which ones work best together. Remember, the color of something online might not be exactly the same in real life, so test it out first.
4. The Design
Your design is ultimately what's going to make your business card memorable or forgettable. If your clients are gathering handfuls of well-designed cards that are sophisticated and eye-catching while yours is just a black and white, plain text affair, yours is going to go straight to the bottom of the pile.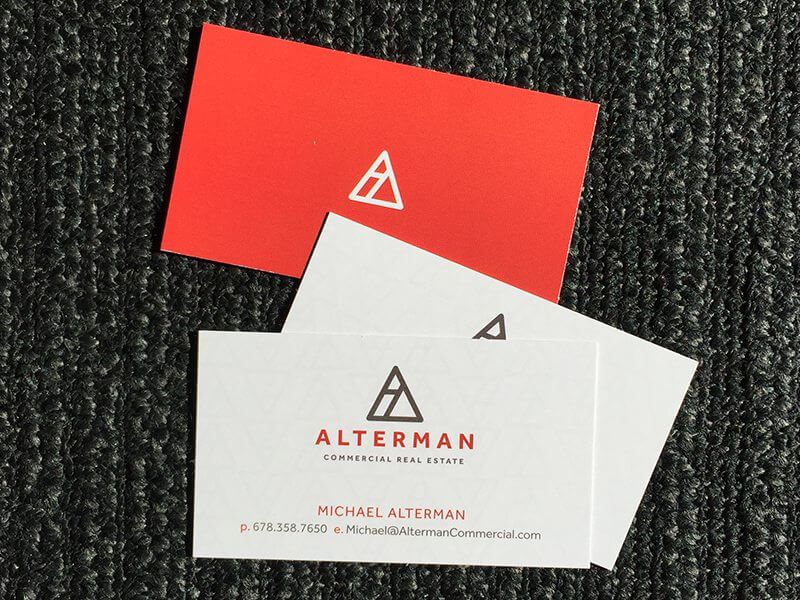 Really think about what your business is all about: can you reflect that on your card?
Ask yourself whether you want to:
Incorporate key elements of your branding, including your logo and any other designs
Keep things as minimal as possible or turn your card into a work of art in itself
Follow the crowd and stick to as traditional a business card as possible, or go all out in order to stand out
The visual editor in Brandly lets you play around with different elements to build up several different sample designs. You can then share your ideas around with your team through the portal, decide on your favorite, or print a few to see which ones look best in person.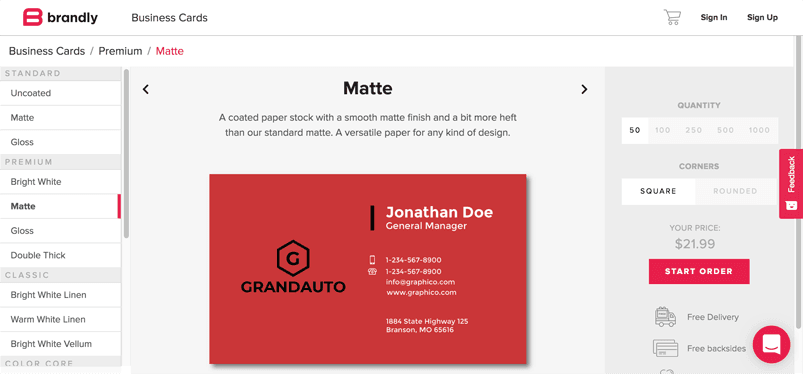 5. The Key Information
Having a great design is all well and good, but if your business card doesn't relay the right information, you're not going to get all the call backs you're hoping for.
You see, the key aim of a business card is to provide prospects with your details so they can quickly and easily get in touch with you.
So what do you need on your card?
Your name (this is a no-brainer!)
Your role (and remember here, you ideally want to include the words "real estate" somewhere on there to jog prospects' memories)
Your office address if you have one
Your logo (this helps make your card more memorable to potential clients)
Your email address and phone number
Your website URL
Your social media handles (this can help if you share insightful things on social media and want to build a deeper connection with your clients)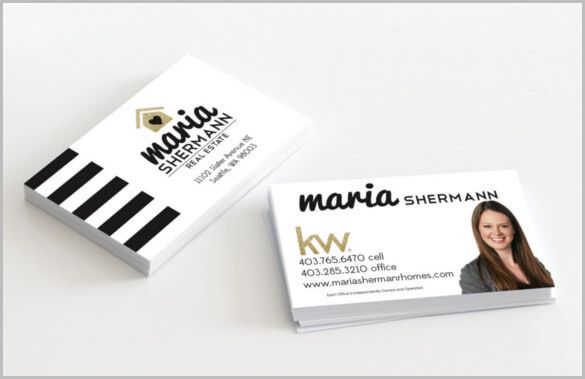 Ready to Get Your Samples Printed?
Designing your real estate business cards should be a fun process, but if you get caught up in all the different elements it can be overwhelming.
This is why it can help to get some inspiration, consider the personality of your business, and try out a few different designs before you settle on the best one.
Sign up to receive our newsletter to get discounts and more creative tips on designing business cards and building a brand you love.