How to Manage and Print Business Cards for Multiple Employees
The problem: Ordering business cards for multiple employees
Large companies have lots of advantages over their smaller competitors, but having hundreds or even thousands of employees comes with its own set of struggles.
Imagine having to create a business card for every single employee, from Dave in accounts to the head of marketing and everyone in between.
Sounds overwhelming, right?
But here's the thing: Studies show that the number of sales for a company increases by 2.5% for every 2,000 business cards that get passed out, which means the numbers game is a great one to play, and it's the reason most businesses — large and small — choose to stick to this long and profitable tradition.
The tricky part comes when you need to manage, create, and print business cards for a large number of employees. Even if you're not making personalized cards with individual names on, you might be creating different cards for each team or department which can also be pretty overwhelming.
So how are other large companies doing it?
The solution: A business card ordering portal
In short, a business card portal is a private online storefront that allows companies to dramatically simplify the business card ordering process — editing, proofing, approving, shipping, and paying for business cards for everyone in their company.
By using a business card portal, companies do not only save lots of time but also usually get to save money and gain control over the entire process.
But the idea here is not to talk about the nitty-gritty of business card portals, so for now, just remember these two things: 1. The tool used by large companies to streamline the ordering process is called a Business Ordering Card Portal. And 2. You can get a great solution for free.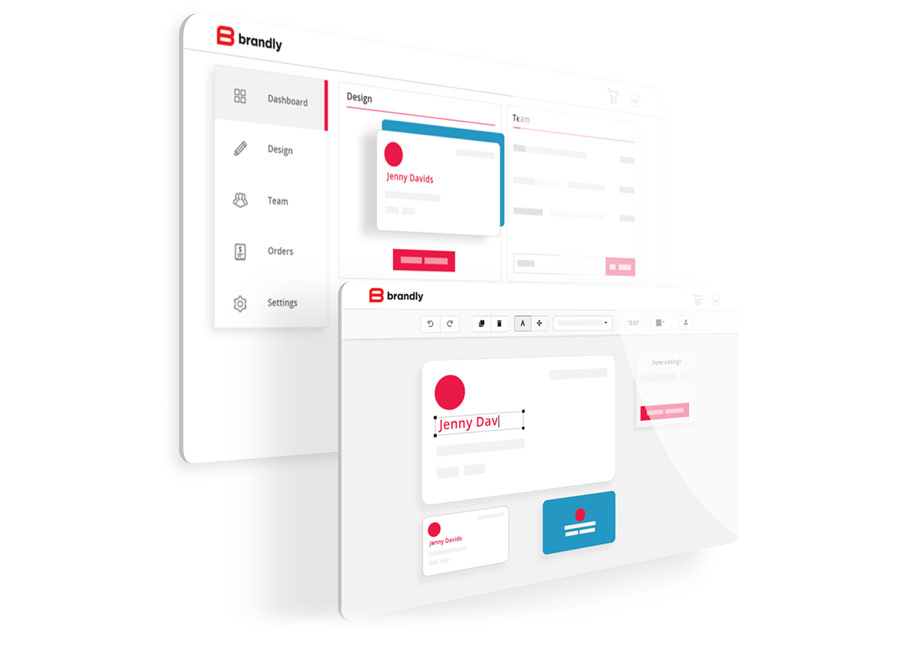 3 Different ways to manage your large business card orders
Business card portals vary depending on the provider, but a good solution will adapt to your needs and preferred type of workflow. Here are the 3 most common ordering workflows used at large companies:
1. Single Orderer Workflow
This is the classic and best-known way of ordering business cards. It relies on one employee to initiate, design, and place all orders.
This helps keep the process tight and avoids any unnecessary backwards and forwards-ing. However, it can sometimes cause a bottleneck as only one person is keeping the workflow on track.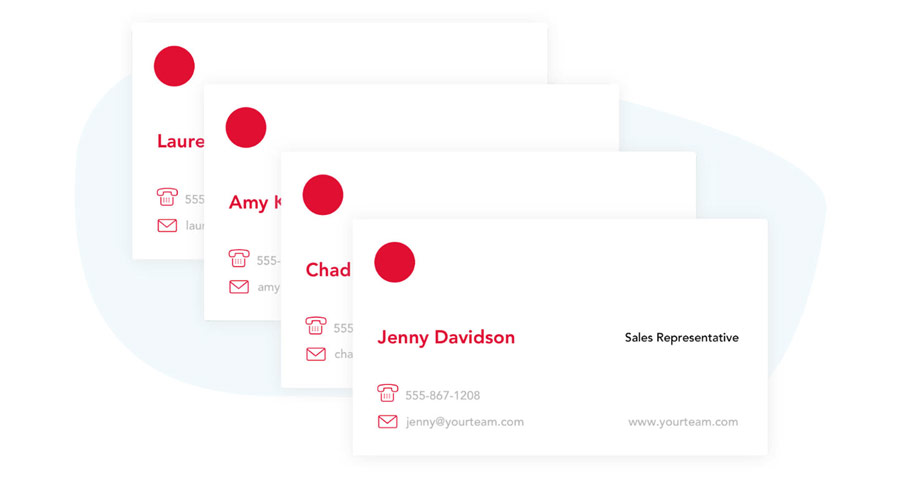 2. Employee Centric Service (aka Self-serve or Self-ordering)
This method essentially puts the power in the hands of employees.\ The way it works is by using an editable template that is uploaded into the business card portal.\ You can quickly and easily share your company's portal link with employees who can then log in, choose the design, change the generic fields with their details, and order (no design skills required).
But letting 1000 employees order their cards by themselves without anyone overseeing the operation can bring other problems. That's where the Approval workflow comes into play.
3. Approval workflow
This workflow option gives one person — the admin — (or a few chosen people) the power to oversee orders placed by employees. Essentially, each employee can still log in, edit and order their business card, but the administrator may then approve, deny, or change any necessary information before confirming the order. This allows potential typos and other errors to be easily recognized and corrected.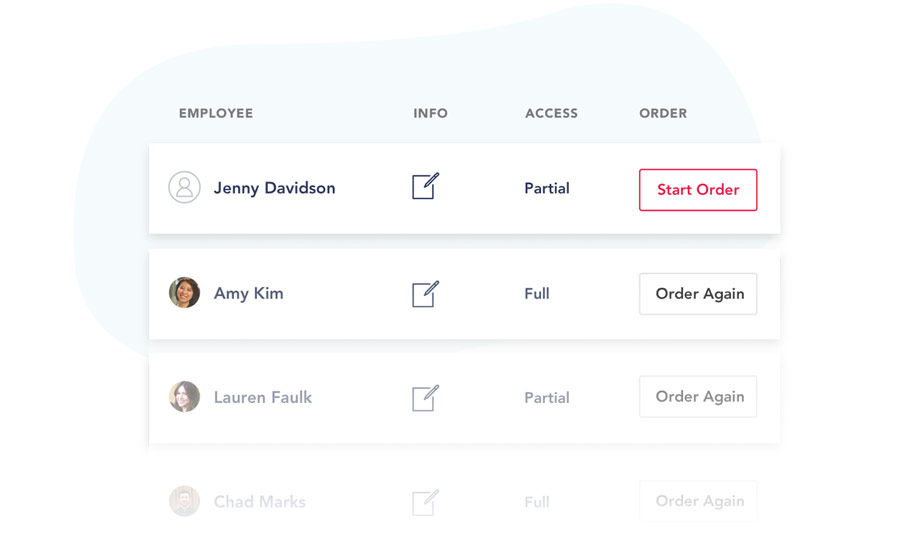 The most popular solution among large businesses
Our records indicate that most large businesses find the 'Self-service + Approval' workflow as the preferred one to use when it comes to saving time. Letting employees self-order as needed is becoming the standard.
"Throughout the implementation of our new ordering system for business cards, the Brandly support staff was always knowledgeable and responsive. With their assistance, we were able to create a solution that was best for our organization." Angie Hernandez - Marketing Specialist @ Gulf Winds Credit Union
In a large company, this is how a typical business card order looks like:
The company opens a business card portal, such as Brandly.
The admin uploads the company's business card template (a PDF design).
Once the portal is ready, employees are invited to it. One email — or sharing on the intranet (or Slack) an invite link to the portal — should get the job done.
Employees select the template they want to use, edit the imprint information and place an order.
The admin receives a notification and approves (or not) the order.
If the order gets approved, it gets pushed to production.
The business cards get printed and shipped to the employee's chosen address.
The takeaway
The way large businesses manage and print business cards for their employees is simply by using a business card ordering portal, which is an online platform that streamlines the entire ordering process making it super easy to get business cards for different employees, departments or even teams in different parts of the world.
That said, if you're still struggling to find a business card solution that fits your needs, or still not sure if you need a business card portal, give us a holler. At Brandly, we strive to provide the simplest ordering solution of high-quality business cards, with exceptional service, and at a competitive price.
Our portals will most likely count on all of the features your company needs (and more) and we don't charge you a penny for opening or maintaining a portal. You just pay for the cards you order.
Not only do we offer a free business card portal, but we also offer:
Free US shipping
Free backside printing
Top-quality print
Business level pricing on cards
Lightning-fast reordering
Bulk ordering
100% satisfaction guarantee
Much more.
If you're interested in learning more about Brandly's free business card ordering portals and how it can help your large company manage, edit, and order business cards, check out our website.