Everything You Should Know About Realtor Business Cards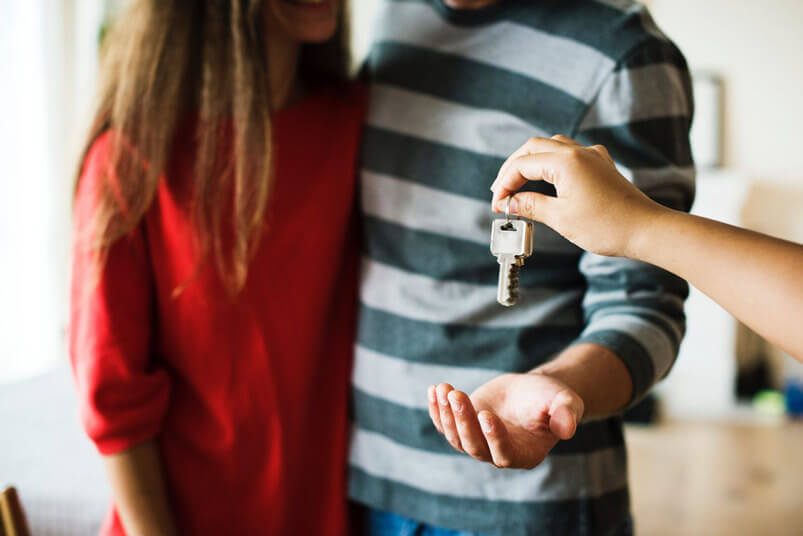 First impressions are important in the real estate industry.
The success of your business is directly related to the relationships you build and, like with most things, you only have one chance to make the perfect first impression (in fact, you only have seven seconds to make a first impression).
When meeting new prospects, it's important that you leave a good lasting impression in order to win their business and stand out amongst your competitors.
This is where business cards come in.
These little paper introductions give people the chance to contact you after they've soaked up everything you have to say, and can help you stand out as a realtor.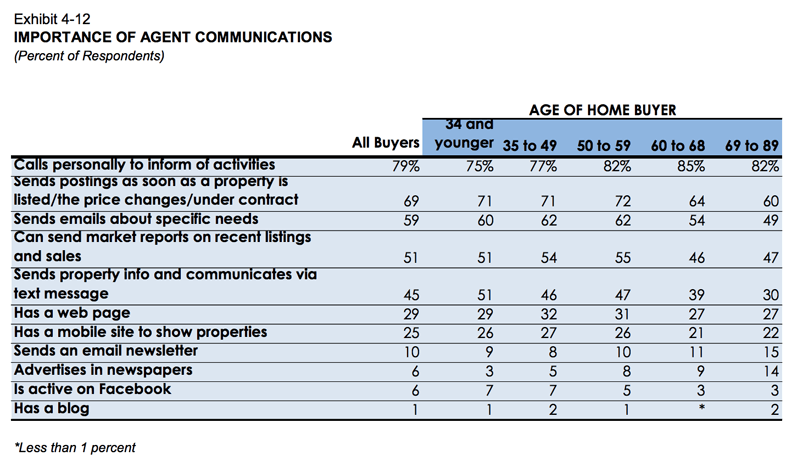 Most of the time, people look to buy real estate will meet and greet a number of realtors before settling on their favorite (in fact, 100% of prospects will eventually settle on a realtor that they have been referred), and a business card gives you the opportunity to provide a tangible reminder of who you are.
And, from your side as a realtor, business cards are nice additions to hand out at networking events, referrals, and open house days.
The 3 Elements You Need to Include on Your Business Cards
Before you start handing out your cards left, right, and center, it's important that they have the right information on. The kind of contact information and text you have on your card as a realtor will be different from the information on cards of people in other industries.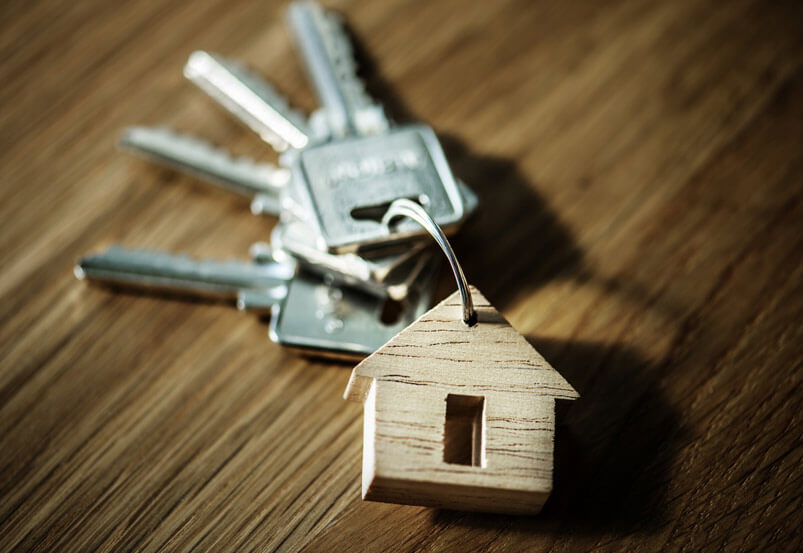 Here's what you need to include:
1. Your Agency
Unless you started your business from scratch, it's likely that the agency you're working with has an established reputation in your area.
Even if you're a brand new realtor with a certificate the dust has yet to settle on, people who are on the hunt for real estate may have heard of your agency giving you extra clout.
On top of naming your agency because of their reputation, you might also find that the company you work for has established branding and a template for you to use for your business card.
At Brandly, it's easy for businesses to upload a template and have employees, new realtors, and other staff log in to add in their own details to print.
2. Professional Headshot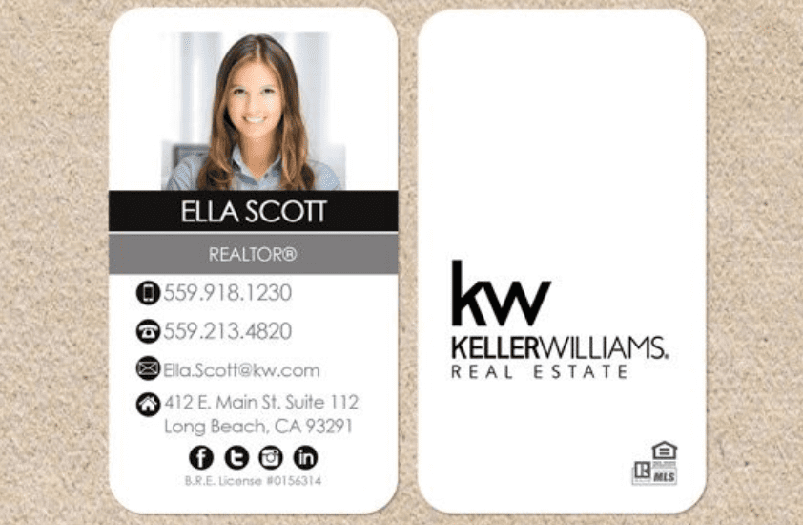 Building personal connections as a realtor is an absolute must, and being able to put a face to a name goes a long way in helping prospects feel comfortable with you.
Incorporating a headshot into your business card also allows people to quickly remember who you are are.
3. Qualifications and Certifications
Prospects want to go with the best realtor they can find (as well as the one they have the best connection with).
This means it can help to put your relevant qualifications and certifications onto your business card so that people know what you can offer them right off the bat. A lot of importance is placed on qualifications in the real estate industry, so give prospects a helping hand by overtly listing yours.
What You Need to Consider When Designing Your Business Card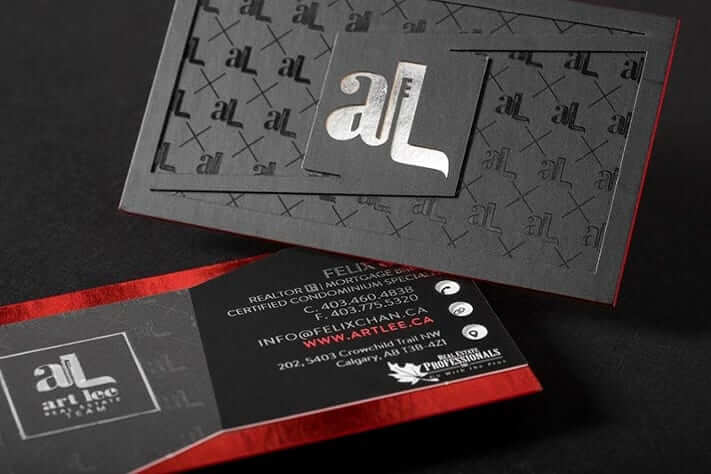 Next is the fun part - designing your business card.
If you don't already have a template to work from, now's the time to get creative and play around with different layouts, visuals, and materials. Before you get started, bear these factors in mind:
Keep it Simple
The purpose of a business card is to deliver key information quickly and concisely. By adding in too much text or making your card look overly busy and crammed, prospects might overlook your all-important contact details.
Keeping it simple is always good advice, but in terms of real estate business cards, this means having only the information you need on the card, no including fonts that are too big and gaudy, and keeping some white space so it doesn't look to cluttered.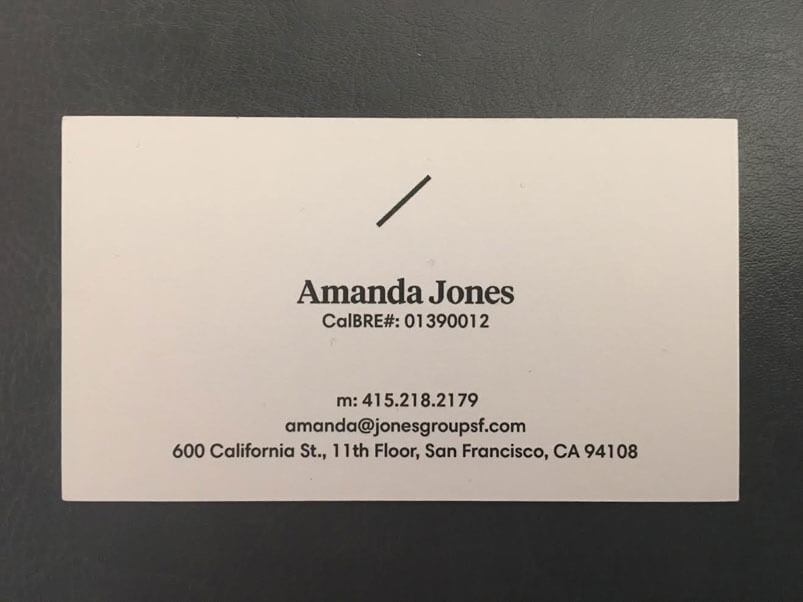 On top of that, we recommend limiting it to three ways of contacting you.
It's tempting to put your email address, phone number, Twitter handle, Instagram profile, Snapchat QR, code and everything else on there, but then prospects might face option paralysis - not what you want.
The Purpose of Your Business Card
Obviously the ultimate purpose of your card is to help prospects remember you and to encourage them to get in touch with you, but to create a really successful card, you want to take it further than this.
Think about the materials, colors, and fonts you're using and what messages they're sending out. For example, if you sell luxury homes to high-end business people, you probably don't want to use multicolored "fun" fonts.
Likewise, a metal business card might seem like a good idea because it'll help you stand out, but if it's shoved in someone's pocket it could cause some material damage that they might not thank you for later.  
Choose the Right Paper Type
Once you've got the design figured out and are happy with the information and message you're sending out, it's time to decide what kind of card you want to print on.
Again, different card thicknesses and different styles send out different messages. Glossy card has a shine to it that matte card doesn't, while natural card might send out a more "homemade" vibe.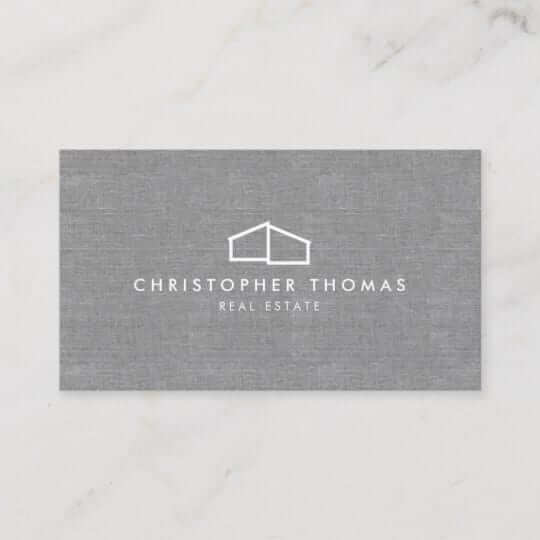 Distributing Your Business Cards Successfully
Now, you've got your business cards in a fancy little holder and you're ready to send them out into the big, wide world.
But where do you start? Can you just go around waving your cards in people's faces and hope that that'll do the trick?
The short answer: no.
1. Start a Conversation
Being a successful realtor relies on you building meaningful relationships. Your job is to be a part of one of the most amazing and stressful times of someone's life.
Rather than just shoving your cards into people's hands and hoping that your long list of qualifications will win them over, give yourself the upper hand by starting an authentic conversation first.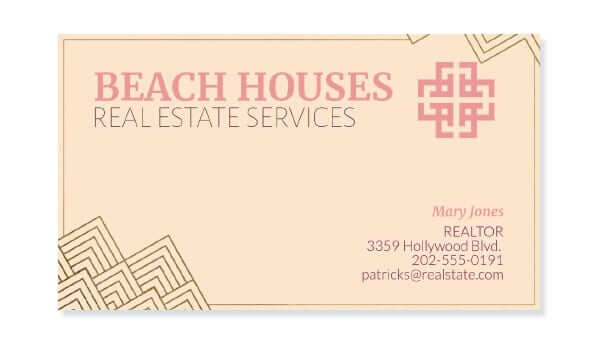 Handing your business card out shouldn't be the very first thing you do. Instead, you should work on creating a connection beforehand and then, once that relationship has been established, offering up your card so that you can continue the discussion via a different medium.
2. Make Yourself Memorable
We should caveat this by saying "make yourself memorable in the right way." Again, business cards are a tool that help you build on relationships that have already been established.
It's likely that a prospect has received tonnes of realtor business cards if they've been looking for property for even the smallest amount of time, so it's important that you stand out and make yourself memorable.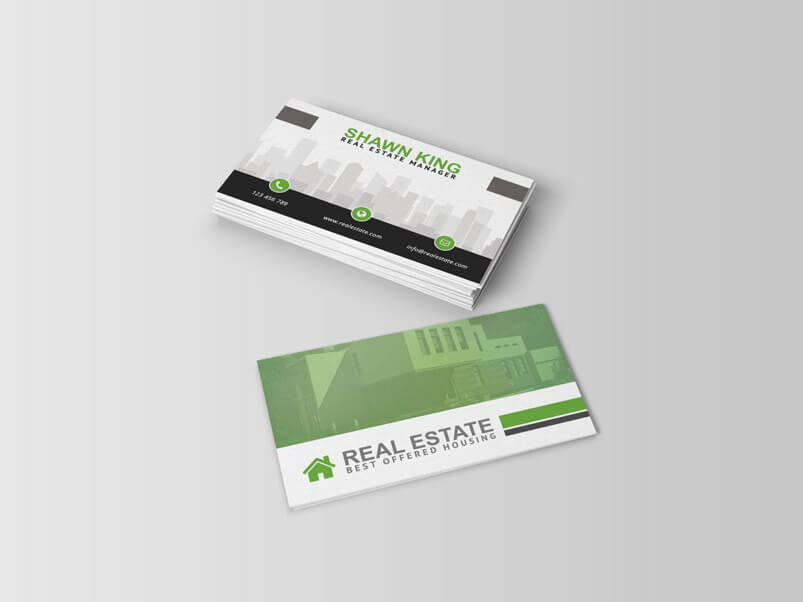 This doesn't mean wearing a loud outfit and promising them the world.
Instead, focus on how you can make individual relationships with people even stronger. If someone mentions their beloved pet dog, weave that into the conversation and mention the dog in your follow up communications.
3. Set a Follow Up Time
One of the biggest mistake realtors face is handing out their business cards and hoping that a prospect will get in touch. They assume that their work is done as soon as their card has been handed over.
In fact, that's just the start.
After you've given out your business card, it's important that you follow up with prospects to deepen that relationship. A quick email or phone call will do the trick to keep you at the front of their mind and to show that you care about their real estate woes.
Examples of Successful Real Estate Business Cards
1. Sleek and Shiny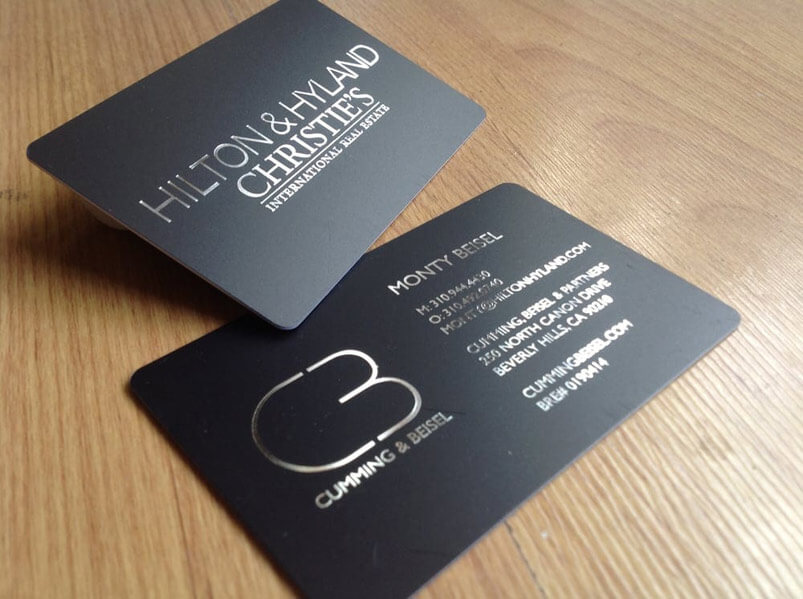 This all-black business card has a gloss finish that looks professional and sleek, but it also has curved corners to make it stand out from all its straight-edged competitors.
2. Well Branded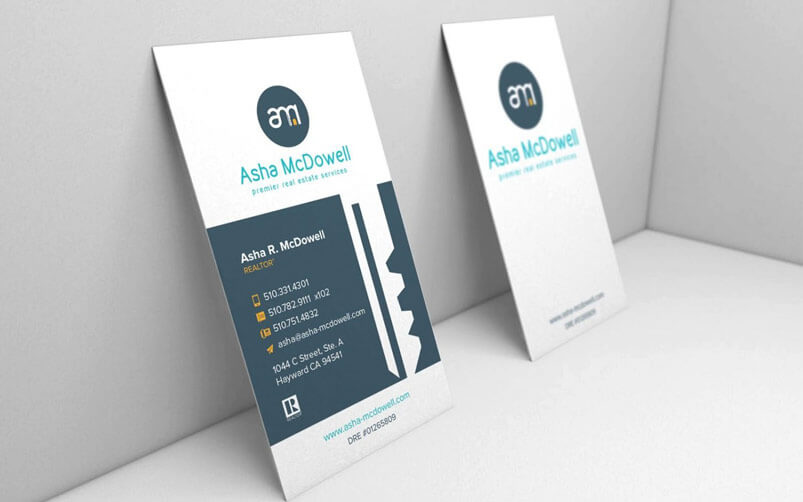 The colors on this business card are on-brand and stand out. The visual of the key adds a nice touch and avoids it simply being a list of written information.
3. Quirky Shape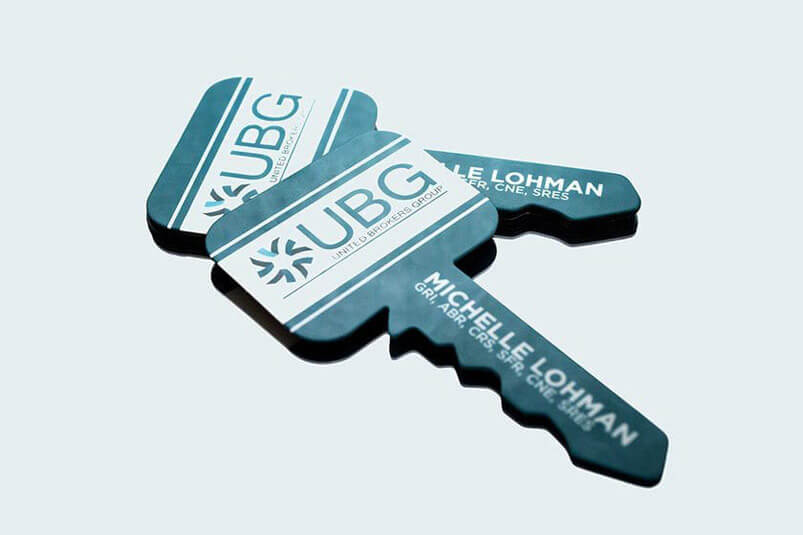 Keys are an integral part of the real estate business, so why not make your business card shaped like one? That's exactly what this realtor did.
4. Embossed for a Retro Feel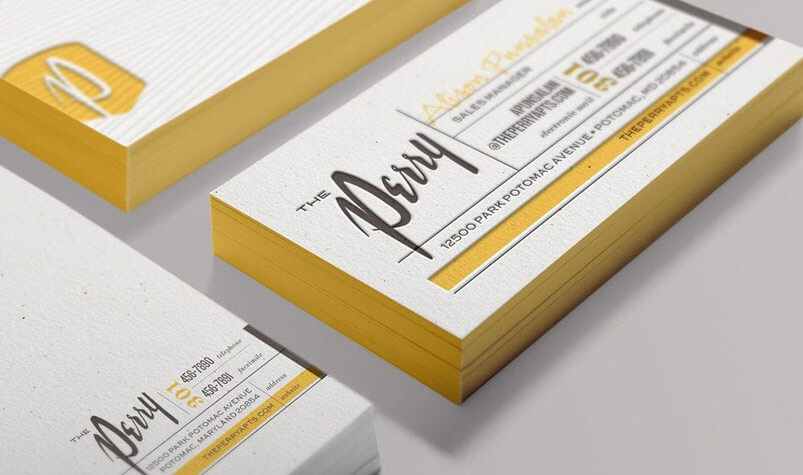 This business card has been embossed to give it a tactileness that other business cards might not have.
5. The Extra Touch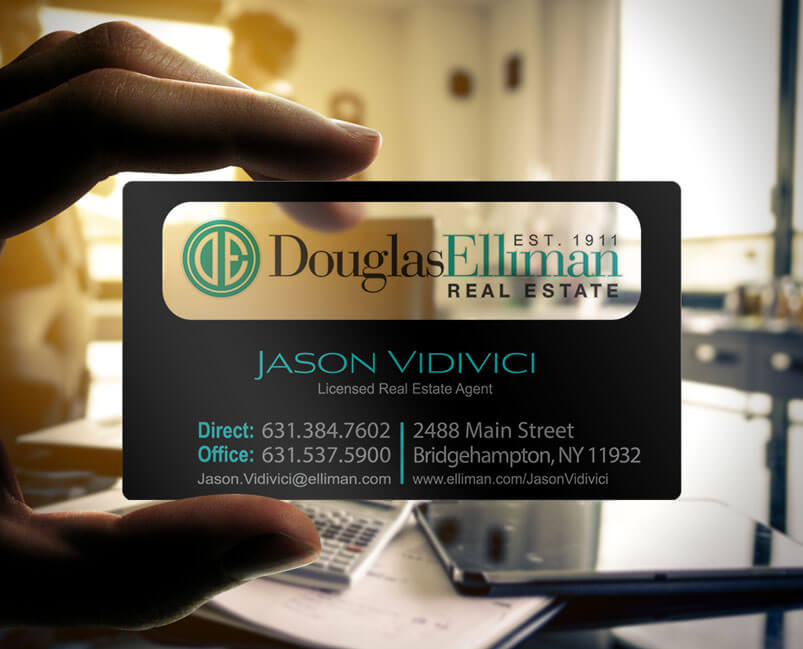 Getting creative with your business cards is one of the easiest ways to stand out. This realtor does that by adding a see-through window to their design.
6. Illustrated Headshot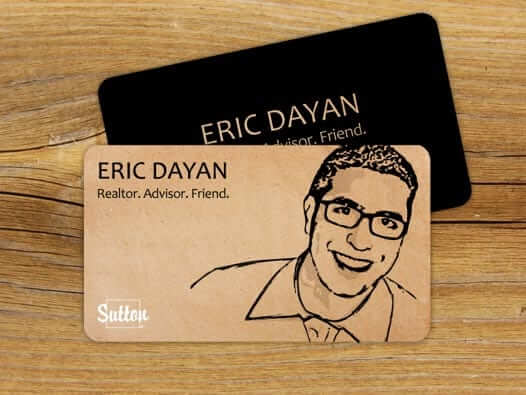 Go the extra mile with your headshot and get an illustrated version done to make your business card pop.
7. Simple but Effective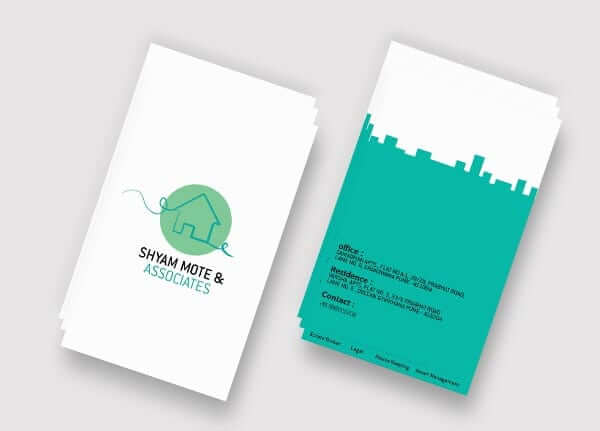 This business card is a classic example of why keeping it simple is best. The splash of color and white space make it stand out.
8. Relevant Visuals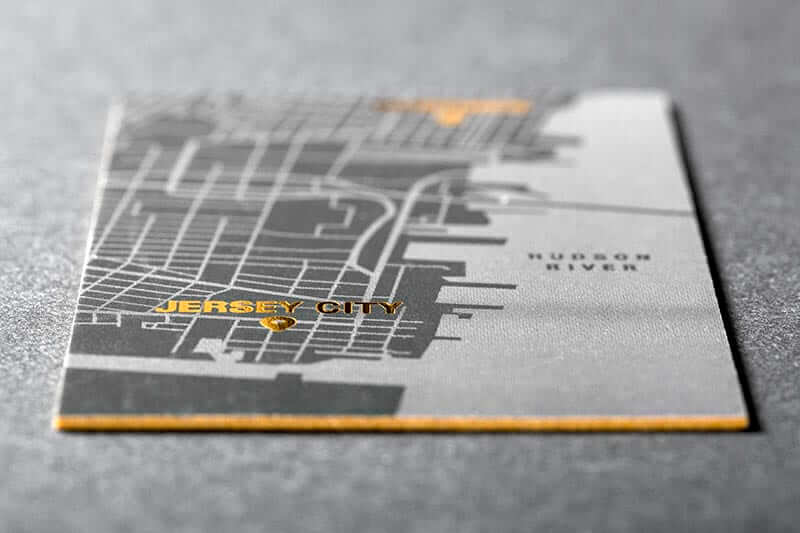 This realtor's business card features an artistic map of the area they serve, providing a relevant visual.
9. Keep it Square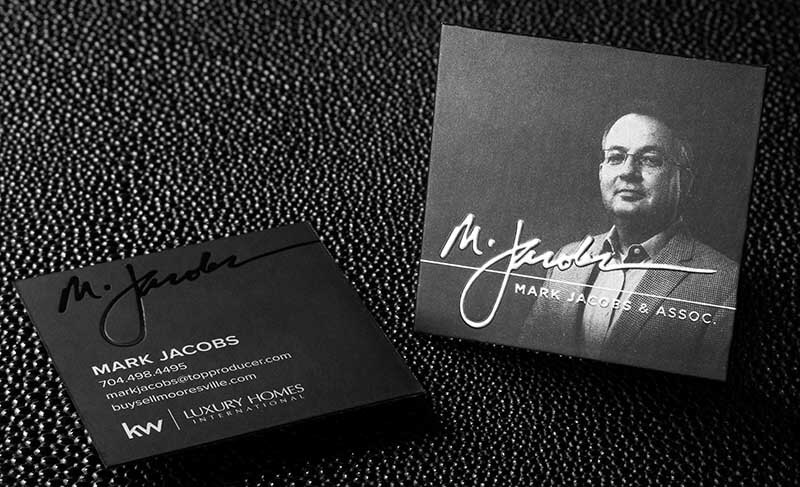 Business cards don't have to be rectangular in shape. This example is square-cut and it works well with the monochrome image.
10. Think About the Edges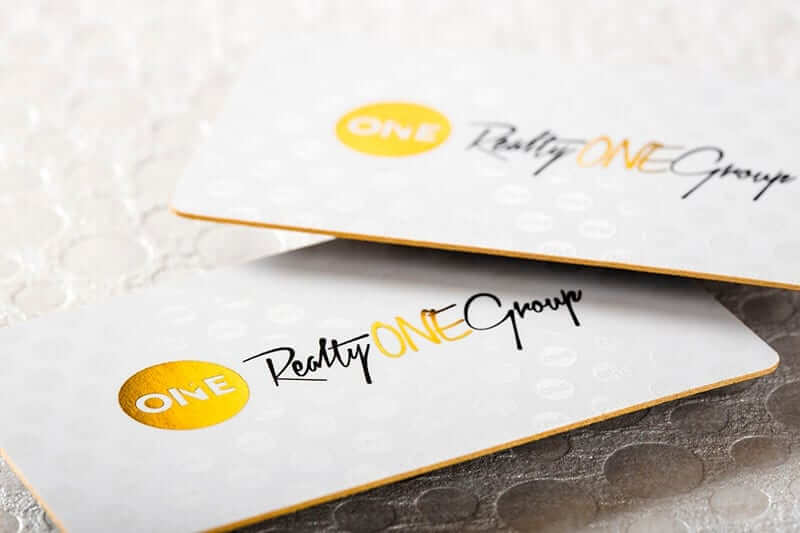 When your business card is in a pile of others, making sure you have colored the edges can help make it stand out.
Business Cards Are a Realtor's Best Friend
Business cards are the perfect professional tool for creating and maintaining relationships. And, in an industry where relationships are so important, they can be make or break for the success of your business.
Before you go handing out any old piece of paper with your details on, think about what goes into the design of a card that really makes it stand out.
Remember: you want your business card to reflect the essence of your business, and the cut, color, and design can really help you make a great first impression with prospects.
Sign up to our newsletter to receive top tips and the latest news about business and design.