Realtor Business Cards: The Essential Guide
---
Creating a good first impression is always important in business, especially for Realtors. Usually, people looking to buy real estate will meet and greet a number of agents and Realtors before settling on their favorite. That's why it's so important when meeting new prospects to distinguish yourself by delighting them with your amazing service and to make sure they have a way to easily reach out to you when they're ready to do business. That is where a business card (and a big smile!) come in.
Realtor business cards are not just about sharing contact information hoping the prospect gets back to you. There is a reason why after so many years and technological advances business cards are still the most basic and fundamental sales tool. These tiny billboards are powerful, prospect-grabbing, credibility, and profit-building tools!
But is your Realtor business card optimized to drive success for your business? Does it have the required elements that Realtors need to showcase their experience? Worry not. We've got everything you need to know when it comes to creating the ultimate Realtor business card.
Requirements
Before you consider anything else, make yourself familiar with your state and local advertising requirements for licensed Realtors. No matter what your state requires, Realtors should strive to follow best ethical practices, meaning you should always try to paint a "true picture" of yourself and your business. In most cases, your business card should have the following:
The name under which the licensee has been licensed (If you use a nickname, you still have to include the full name under which you are licensed).
The name of the real estate broker or brokerage firm AND business address.
The type of license you have (i.e. Real Estate Salesperson, Real Estate Broker, REALTOR®)
The Real Estate, Broker, or REALTOR® license number.
These details help place you in the real estate industry as an accredited, tangible, and legally operating Realtor in your state.
Name
It's worth mentioning again that your name is arguably the first and most important of the basic contact information you need to display on your business card. It's how you introduce yourself, and how you want people to remember you.
TIP: If you have a nickname, you can include it to let prospects know you're friendly and approachable!
Contact Details
It's important to include a method of contact that appeals to different types of buyers. For instance, home buyers and sellers in the older generations may prefer to get in touch over the phone with a real estate agent compared to the younger generations who are more likely to email, text, or google you. Therefore, we suggest to include:
Your phone number
Your email address
Your website or listing
According to a recent Realtor report, buyers of all generations are increasingly using the internet to look for properties and find Realtors' contact info. Data shows that 90% of people use the internet to start their home search. That is why adding your listing's website is crucial.
Credentials
Getting a real estate license requires a lot of time and effort. And if you're a Realtor, it means that you are a member of the National Association of Realtors! You've acquired additional training, you subscribe to a strict code of ethics, and you pledge to provide fair treatment for your clients. That is huge!
Both buyers and sellers know that working with a Realtor is in their best interest. So, proudly drop that REALTOR® logo on your business card—you earned it!

TIP: If you work with any of the big-name real estate companies or have other affiliations or credentials, adding the logos solidifies your reputation as a professional and trustworthy Realtor.
Ok, we've covered the basics. But as we mentioned, business cards are more than a tool to share personal contact information. Here are some other tips to unleash the power of your Realtor business cards.
Keep it Simple
To make sure your Realtor business card delivers your key information quickly and concisely, just keep it simple. Too much text or images can make your card look overly busy and crammed. If information is too hard to find, your prospects may just not bother to look.
Keeping it simple is always good advice, but in terms of real estate business cards, this means having only the information you need on the card. Avoid decorative elements and embrace white space; it makes the important information stand out.
Branding Elements
On the topic of design, you want to make sure that your Realtor business card elements, such as colors, typography, logos, and images, are aligned with your brand. All these work together to boost brand recognition and reinforce your business image. Real estate business cards often include one or two brand colors (remember—keep it simple), a logo, and clean text that is easy to read.
Add Your Social Profiles
Surprisingly, social media was the technological tool cited as being the best source for generating high-quality leads among Realtors. Agents and brokers use social media to promote listings, maintain relationships with existing clients, and even find new prospects.

Including links to your Facebook, LinkedIn, or Instagram will boost your outreach with potential clients. You can even add social media icons to your business card that matches your design style.
Headshot or Not?
The jury is out when it comes to putting a headshot on a real estate business card. One reason the majority of Realtors might include their photo is to increase their personal brand and recognition. In an industry where first impressions are so important, a good-looking photo can certainly boost your likeability. But there is no rule that expressly says you need one. If it doesn't add to your message or if it isn't clean and professional, then you're better off not using one.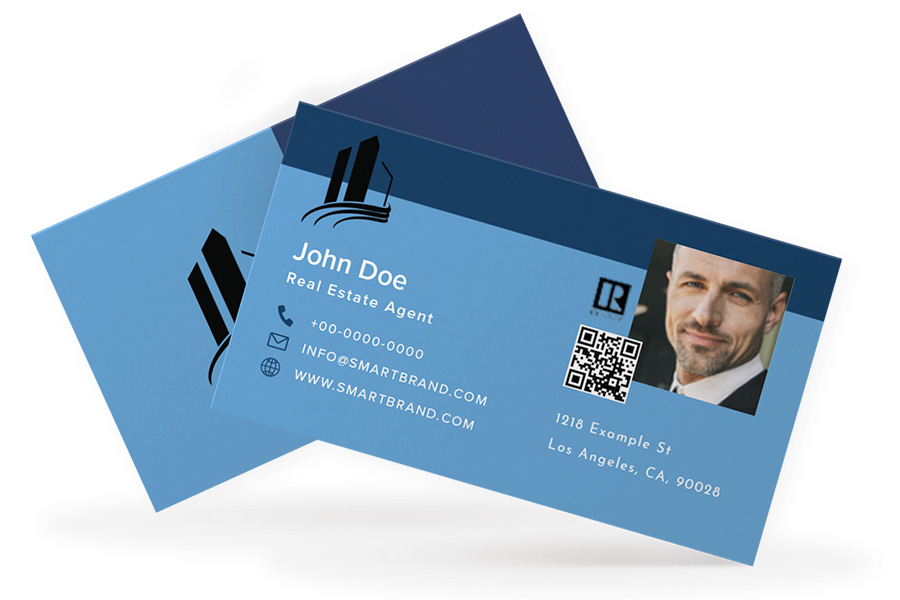 Add A QR Code
QR Codes can do so many amazing things. You can use one on your business card to easily share your contact info, or send potential customers directly to your website or social media profile. It's a tiny but mighty tool that can boost the marketing potential of your business card.
Once you've got the design figured out and are happy with the information you're going to put on your card, it's time to consider some additional branding elements that can really take your business card to the next level.
Choosing the Right Paper
The type of paper you choose for a Realtor business card says a lot about your style and your business. Different card thicknesses and finishes send out different messages, so you want to think carefully about what your message is.
For example, thick, heavy card stock with a gold foil finish might signal that you're in the luxury real estate market, or that you deal with high-profile retail properties. A slightly thinner card with a simple gloss finish could imply that you're approachable and can help people with finding their forever home.
Matching Email Signatures
Giving out your Realtor business card and a big smile will create that personal and memorable experience that will likely generate a further conversation. Following up on a meeting with a brief email reminder is a great way to keep this conversation going. And to help boost your image and brand (and look amazingly professional) it's worth the effort to use an email signature that matches your business card.
Some of the benefits of email signatures:
You can add links and buttons that direct people to your listings and social media.
On mobile devices, a simple click on your signature can start a call to your phone number.
Matching it to your business card will establish your brand.

Now that you have your Realtor business card and your email signature set up, you're ready to start making connections with your customers. Check out some of these awesome Realtor business cards for some ideas.
Need some more design inspiration? Check out these 13 Brilliant Examples of Real Estate Business Cards >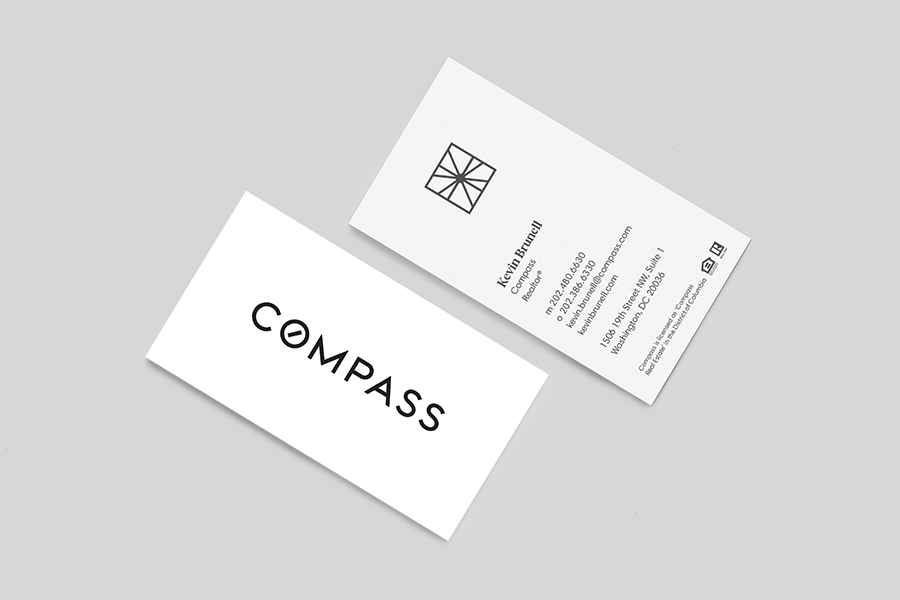 Designed by Tré Seals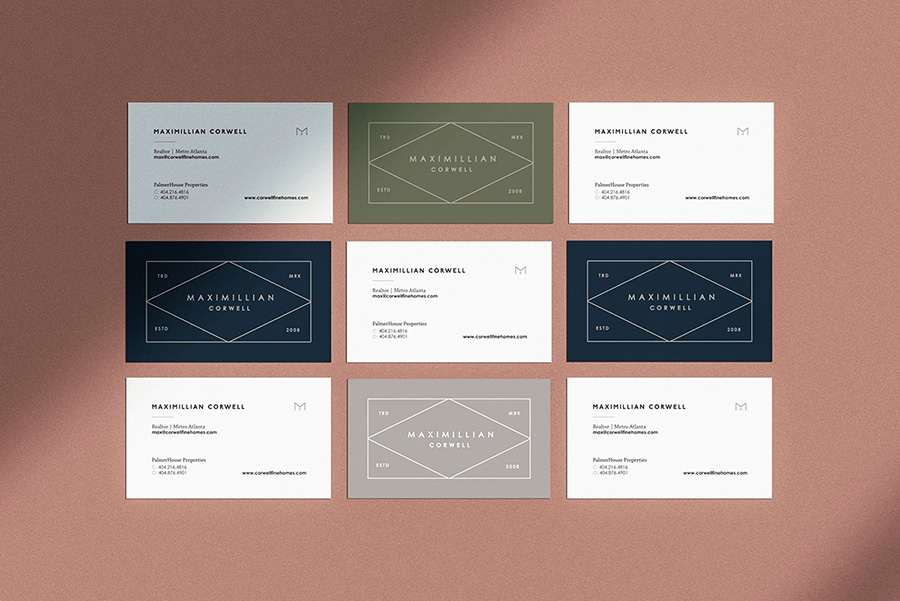 Designed by Kevin Craft for Maximillian Corwell Real Estate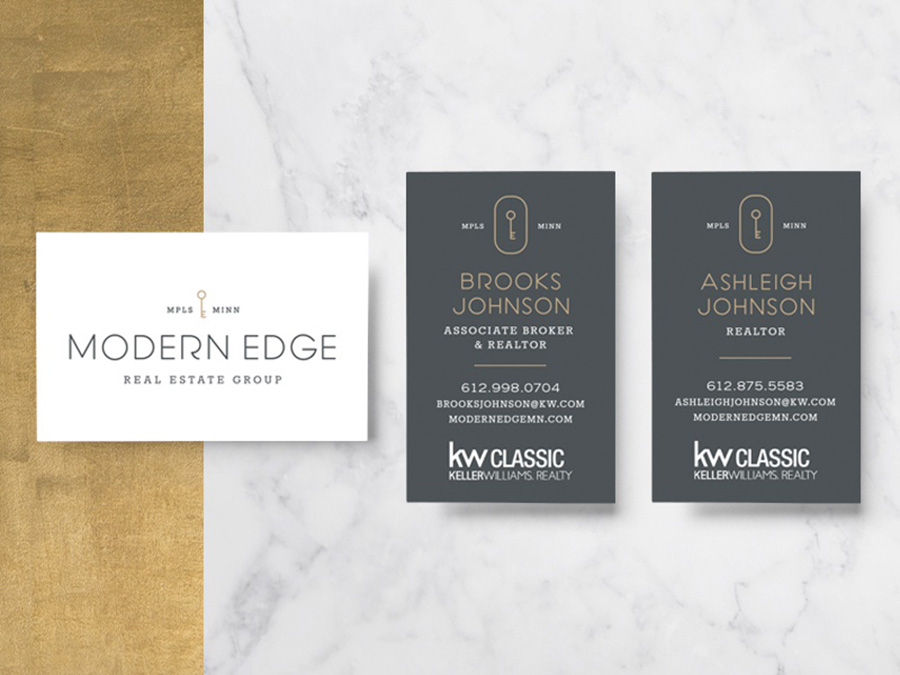 Designed by Phalen Reen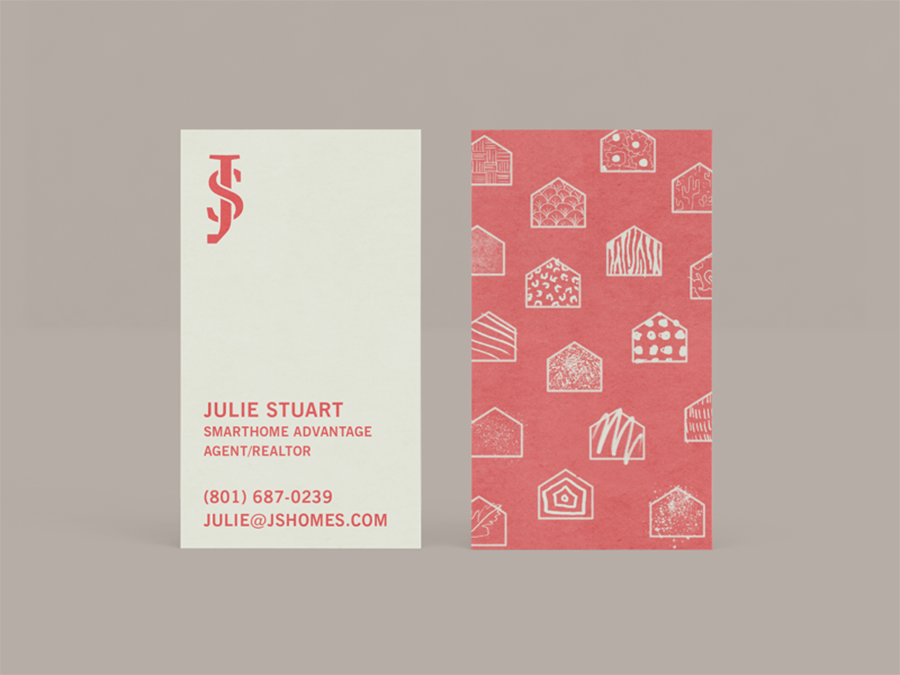 Designed by Brian Collier for Julie Stuart
Business cards are important tools for Realtors. With the right elements and an eye-catching design, your card can be the part of the difference between closing or not a deal.
Brandly's free business card portal is simple and easy to use for real estate teams of any size. Once you have a design, you can upload it and share it with your team for fast, on-brand printed cards. Add a photo or a QR Code in only a few steps.