5 High-Performing Elements to Put on a Business Card
---
A typical business card has essential contact information, like name, phone numbers, and email address, but it can also send a message about your brand values and identity. According to the Forbes Agency Council, even in a digital age, business cards are still valued for adding a "meaningful and personal" touch and providing legitimacy to you and your business.
"There is something still meaningful and personal in giving and receiving cards when meeting people." - Jeff Tan, Dentsu Aegis Network
At Brandly, we believe that with the right elements, a business card can become one of the most important pieces of your marketing strategy. But have you wondered what to put on a business card to make it even more effective for promoting your brand?
In this article, you'll learn what 5 elements to put on a business card that will take it to the next level.
---
Are you a designer?
Brandly's Partner Program makes it easy to earn recurring revenue from your clients and ensure your design business is set up for long-term success. Built with ease-of-use and money saving in mind, you'll be able to provide the best and only free business card ordering solution to your clients. And behind the scenes, you'll be earning extra income and strengthening your valuable client relationships.
To step up to the next level of growth & achieve an unlimited recurring revenue stream for every business card design you make, join Brandly's Partner Program >
---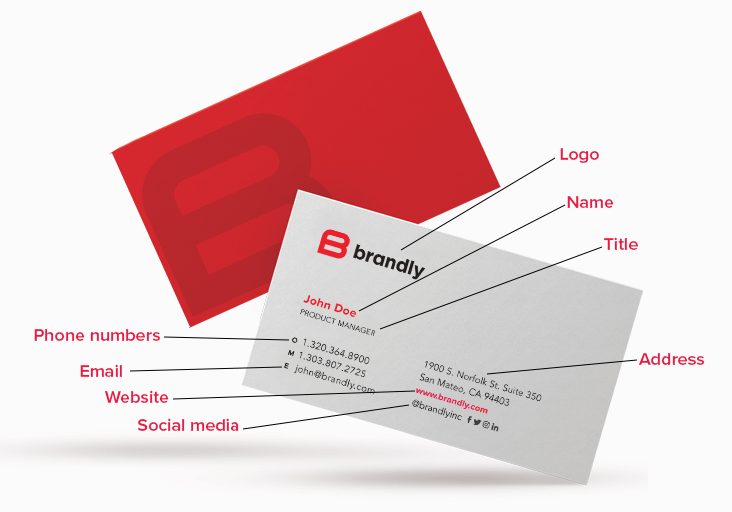 When you think about what to put on a business card, there are several common elements that are almost always a necessity. For most standard business cards, they include the following contact details:
First and last name
Job title or position
Email address
Phone number
Business address
Website
Social media
If the purpose of a business card is only to share contact information, then a basic design will cover these essentials. However, a truly high-performance business card can do much more than just that. See our list below of some additional characteristics and elements that you can put on a business card to create a design that will not only leave a lasting impression but also drive more business.
You may be wondering at this point what we mean by "high-performance" design elements. In our definition, a high-performing design turns a business card into a powerful marketing tool by effectively engaging people and making your brand stand out. We'll show you what to put on your business card to increase your customer interaction and boost your business.
We've evaluated different business card designs and found that the most common elements of a high-performing design go beyond the basics and include these additional features. Incorporating these extra elements can elevate your design, put your brand top-of-mind to potential customers, and generate more sales.
A well-designed logo
Imagery
A QR code
A promo or discount
Special finishes
A well-designed logo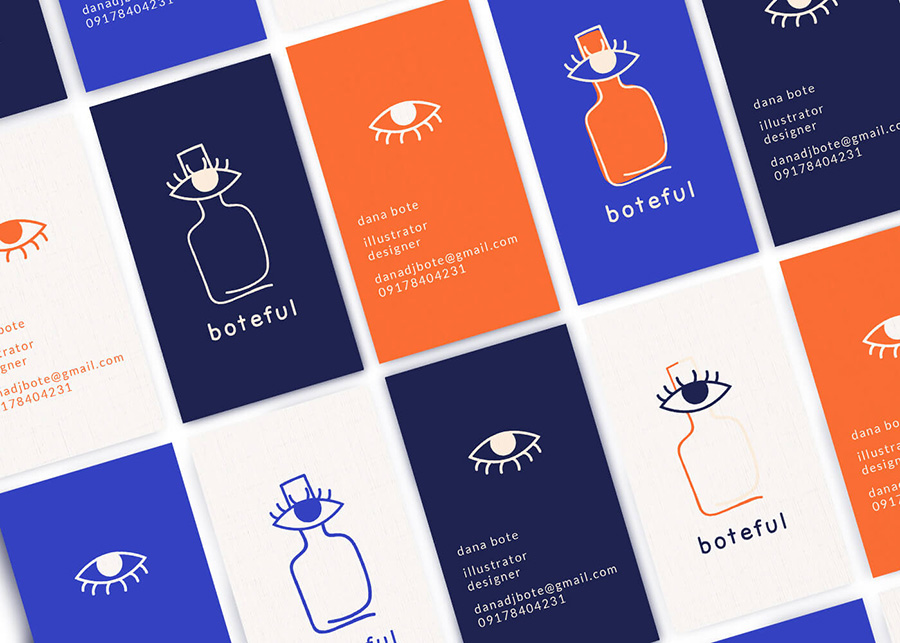 Designed by Dana Bote for personal branding
Your brand identity should be present in all aspects of your business, and is a fundamental element to put on a business card. When you connect with someone in person, your business card serves as an extension of your brand that will help them associate you with your business.
If you don't have a logo, the time and effort spent on creating a great brand identity will go miles for your business. Learn more about branding in our article The Difference Between Brand, Branding, and Brand Identity.
Imagery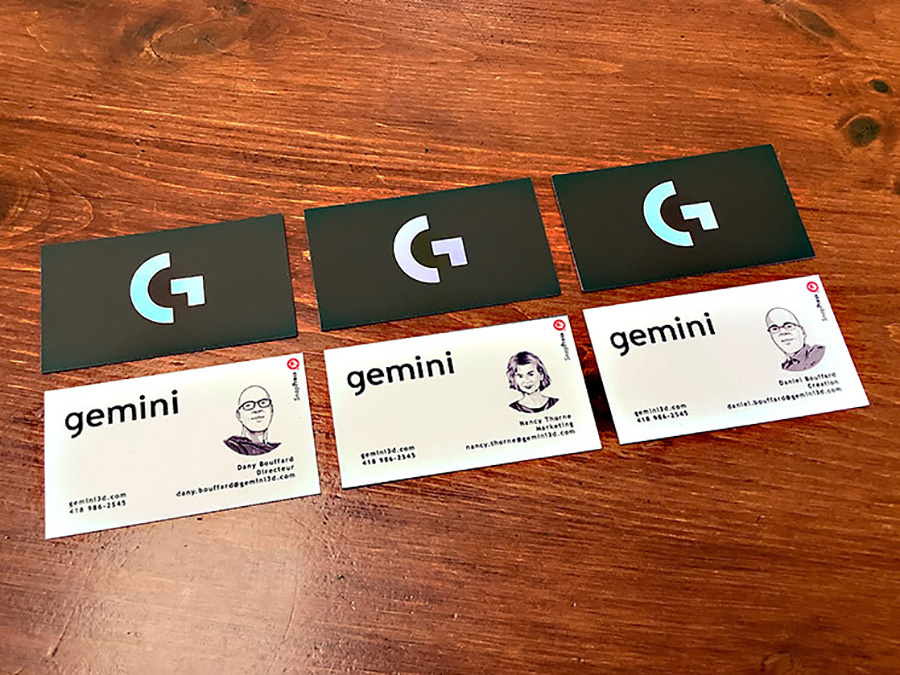 Designed by Gemini For Gemini corporate branding
The easiest way to increase brand likability and recognition is to put a personal photo on a business card. This establishes familiarity and helps people put a face to the name. A hand-drawn self-portrait is also a creative way to share your unique style.
A QR Code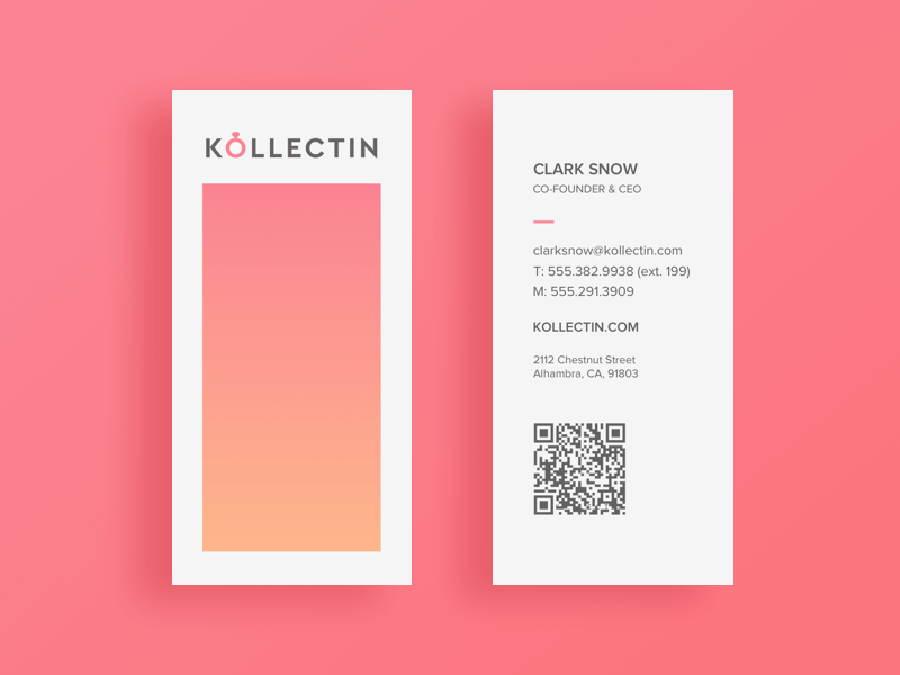 Designed by Yesica Danderfer for Kollectin
In the same way an email drip has the purpose of getting the recipient to engage in an action (e.g. "Signup", "Share this", "Buy now", etc.), high-performing business cards often have an interactive element too ("CTA", in marketing jargon). In a world where our smartphones are always at our sides, a scannable QR Code can boost engagement between potential customers and your brand.
Putting a QR Code on a business card can help drive qualified traffic to a website, catalog, price list, demo, meeting scheduling, or social media site of your choice. Now your business card is more than a reminder of your brand and your personal information; a business card super-powered with a QR code can become a direct source of revenue for your business!
A discount code or a promo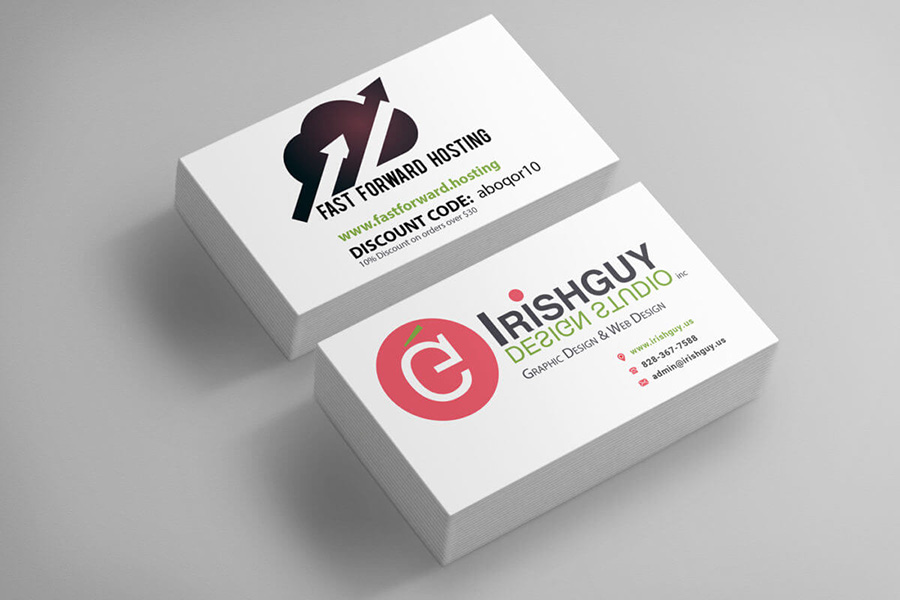 Designed by Gary Crossey for Irish Guy Design Studio
Additionally, special promo or discount code is something you can put on your business card (your marketer comrade will love this idea). Promotional codes entice action. Same as with QR codes, promo codes are an easy way to track how effective a campaign (or business card) is and whether or not it gets people to engage with your brand and buy.
Special Finishes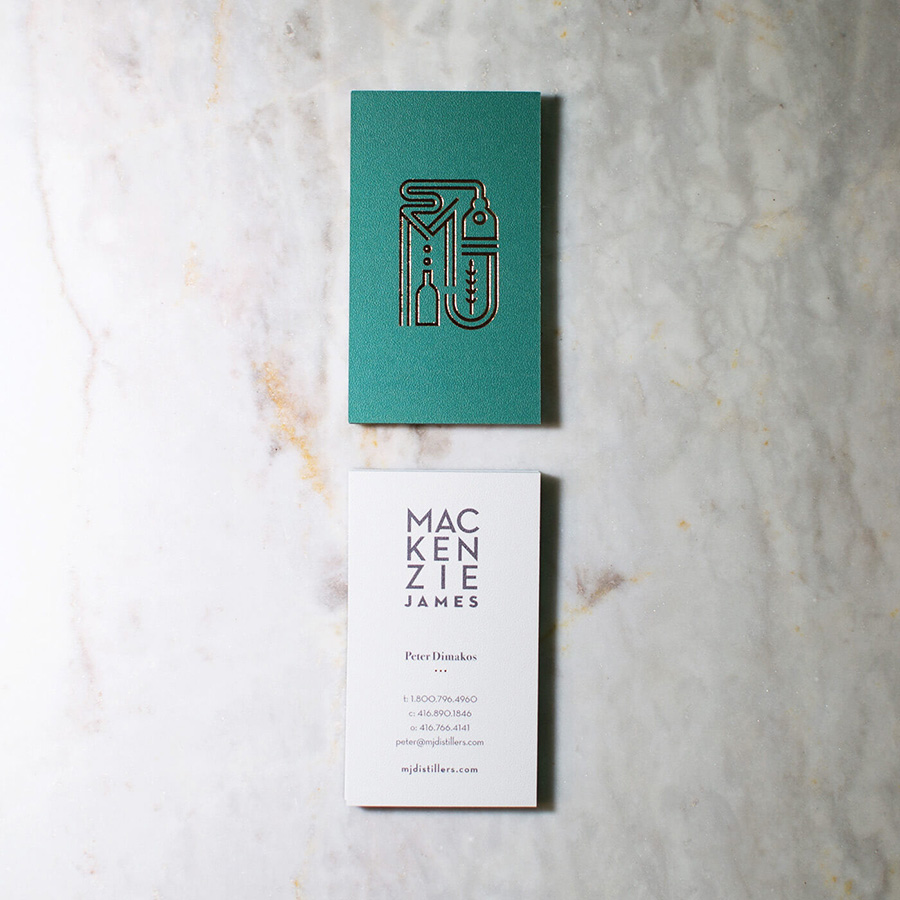 Designed by Dan Perrella at Mano Design + Illustration for Mackenzie James Distillers
When we say 'elements', we're not only talking about content. Incorporating some specialty finishes can take your design from conventional to inspired. These are some enhancements you can put on your business card to upgrade the quality and value of your design.
Gold and silver foil stamping
Spot gloss coating
Rounded corners
There are other characteristics of high-performing business cards that don't necessarily contribute to its marketing performance but increase the overall perceived value of your brand. These are important elements to consider incorporating into your design:
Color and typography
Quality paper stock
Interactive design
Color and Typography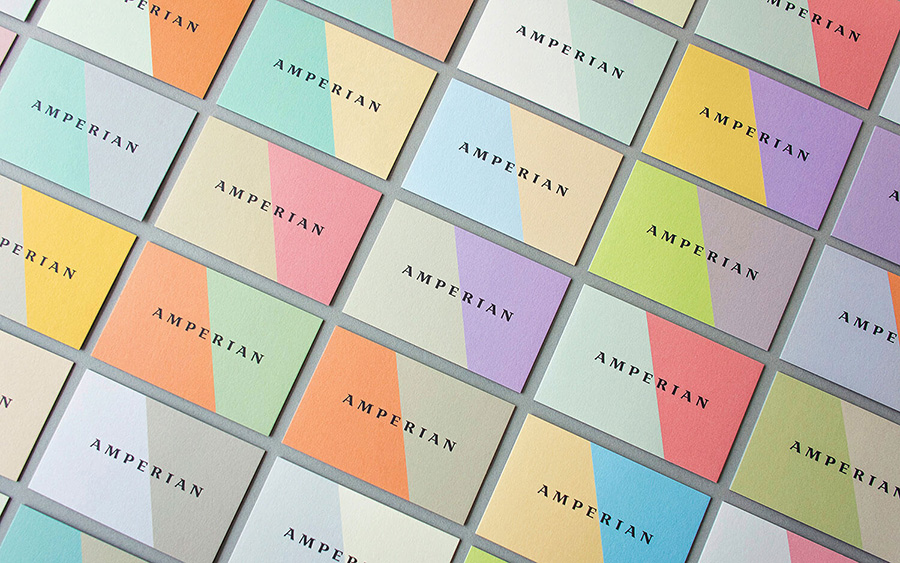 Designed by Yana & Jun at BÜRO UFHO For Amperian
A study shows that color is a major influence on consumers' initial opinions of a brand or product. That says a lot about how design impacts the marketing potential of a business card. Color enforces brand recognition and awareness, so if you choose to put color on a business card, make sure it is minimal and consistent with your brand.
62% to 90% of a person's initial assessment of a brand is based on color alone.
The same goes for the fonts you choose. The value of good typography should never be underestimated and can greatly influence the perceived quality of your brand. It's not always better to put overly decorative fonts on your business card, it's more important to make sure the information is clear and legible.
See some additional rules for designing a business card >
Card Stock

The paper you choose sends a message about your brand, which makes it one of the most important characteristics of a high-performing business card. For example, if you want to convey that your brand offers a low-cost yet quality solution, you might choose a thinner paper with a smooth bright finish. If your brand image is luxurious and sophisticated, then a thick textured card stock is a great high-end option.
To see Brandly's full paper catalog, click here >
These examples have the characteristics of a well-designed and effective marketing piece. Use these to inspire you when you're thinking about what to put on a business card.
Designed by Marcin Usarek For Monumentum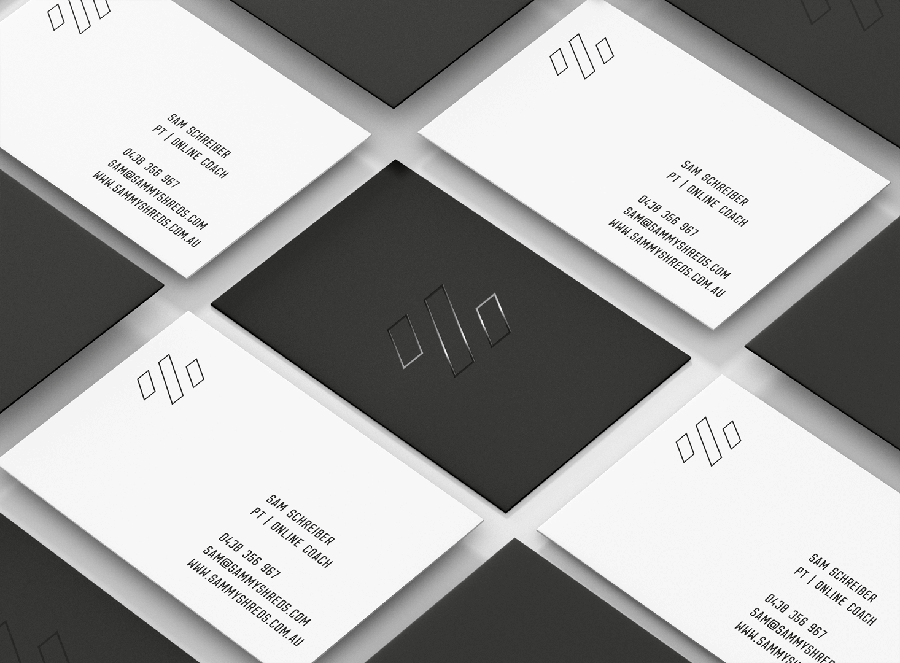 Designed by Whitnee King at Netley Studio for SammyShreds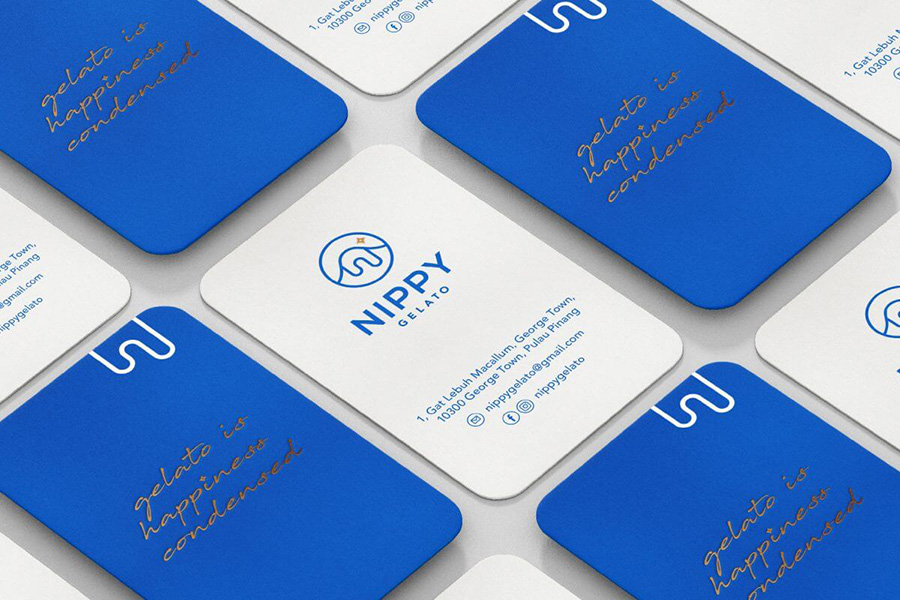 Designed by TE Perspective for Nippy Gelato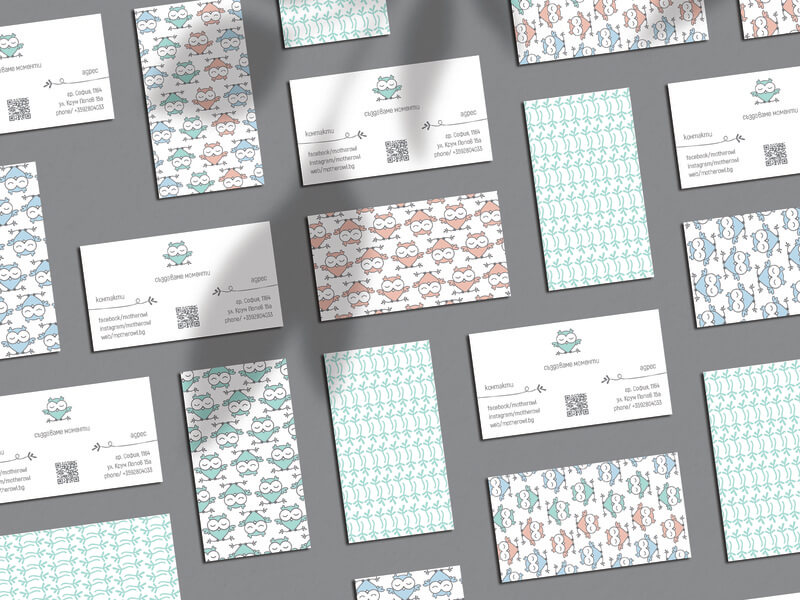 Designed by Ana Stoyanova (a.k.a. Rockrosee) For Mother Owl
Designed by Tsvetislava Koleva (assignment for FourPlus Studio) For Reinvent
Designed by Unifikat Design Studio For La Luce
Designed by Whitnee King at Netley Studio For Come & Graze With Me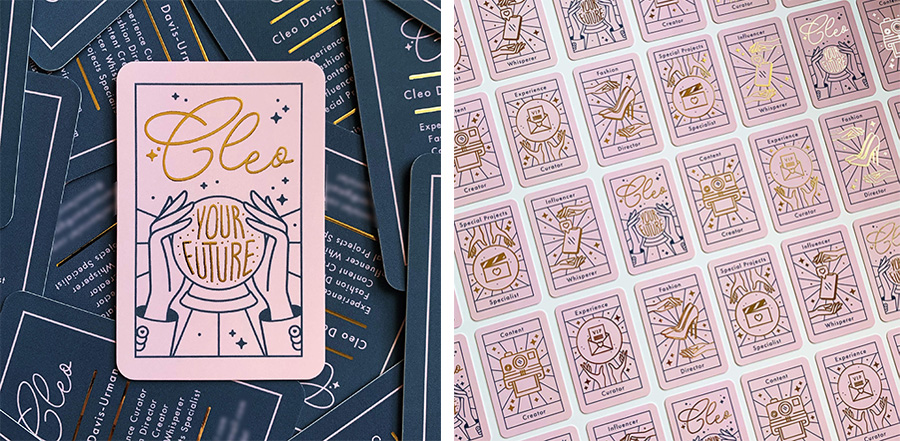 Designed by Lucy Jennings for Cleo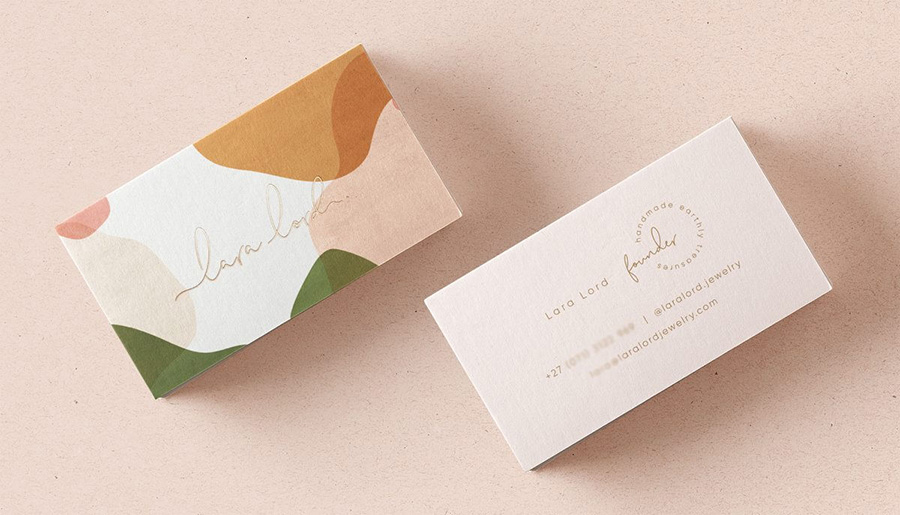 Designed by Marli Venter at Galerie Design Studio for Lara Lord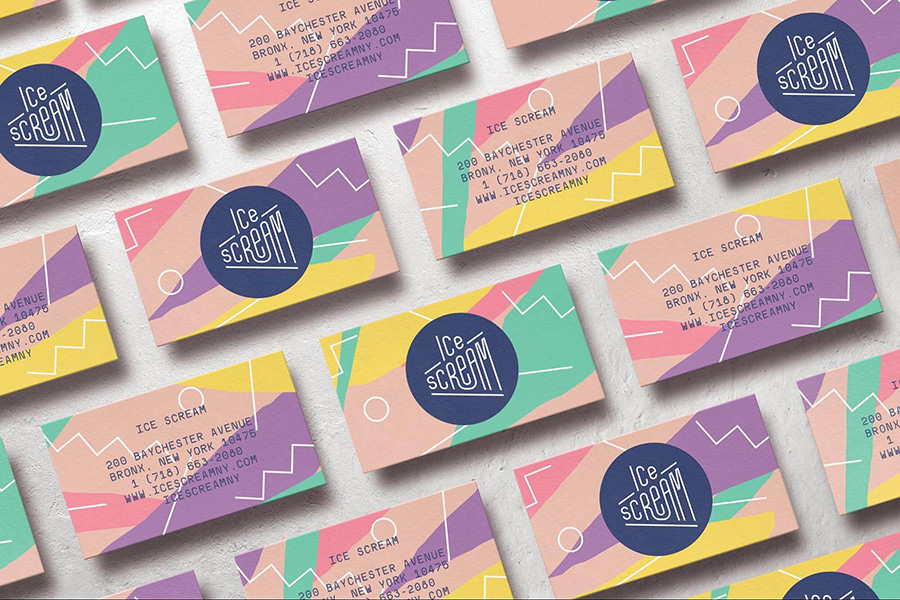 Designed by Asthetique For Ice Scream (Jonathan Pinkhasov)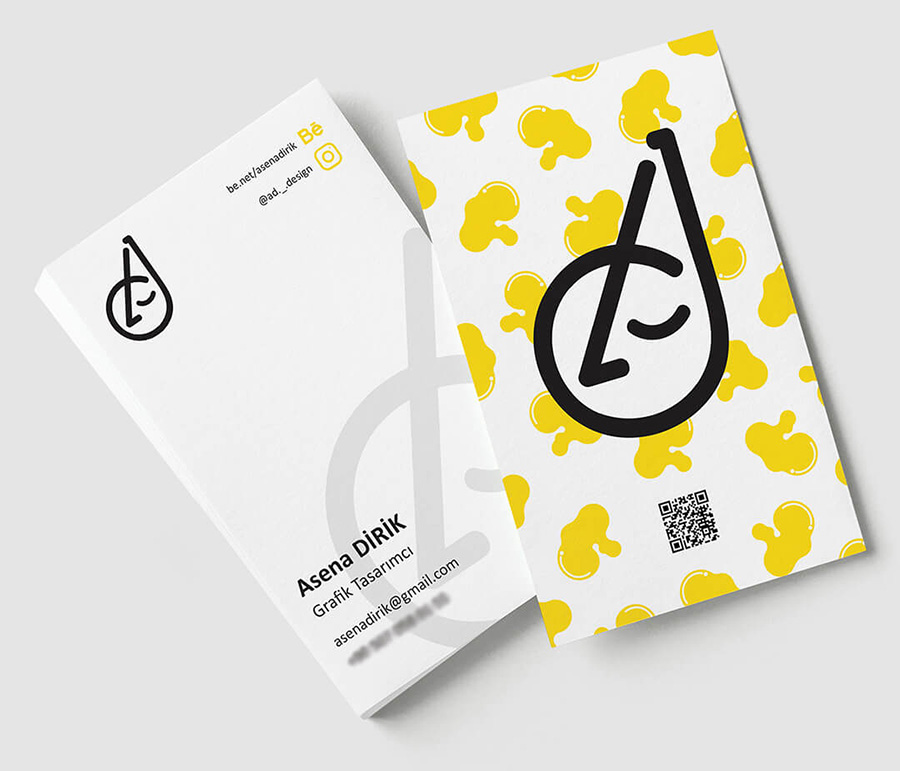 Designed by Asena Dirik for personal branding
Conclusion
Hopefully, we helped you realize business cards are much more than pieces of paper with personal information. The marketing potential of a business card is huge! We also hope you learned what information to put on a business card to make it stand out and literally work for your business.
Once your design is ready, upload it to a free Brandly account. Our portal will automatically make your business card editable and shareable so that your entire team can self-order as needed.